What we liked and didn't of Cimafunk in La Tropical
The outsides of La Tropical are, at 9:20 on Saturday night, a surprisingly organized crowd that moves in a row from the 41 street, skirting the parking lot, towards the door of the Salon Rosado Benny Moré. The concert they attend will not begin until after midnight, but after the record of the public that burst at the Cuban Art Factory on Friday, November the twenty-third, nobody wants to take the risk of being left out. La Tropical is much bigger than the Art Factory, but one never knows. La Tropical, they say, is the thermometer of popular music in Cuba and, an hour and a half before the concert is bursting.
Inside, people drink beer and dance with a playlist that during the night will include few Cuban themes (for us to know, La natila, by Habana Abierta). People talk and exhale a gray smoke that briefly blurs the faces. There are people who are taking selfies, as if they wanted to leave in an image the constancy that they were here tonight. Or not, perhaps they only do it to kill time, because a big part of the people who arrived tonight have already seen Cimafunk, surely many times in the last eight months; more than they should, even. And surely they will continue to see him, even though that doesn't necessarily mean a change between what they have seen and what they will see tonight. And there are also people who came to discover. That has surprised a good day singing under a "me voooyyy", without being very clear where it came from, and that has made the line of La Tropical to know the phenomenon live. For those "patients", tonight's concert will be, surely, spectacular.
The stage, the lights and all the technological paraphernalia announce a great concert. Only the music is missing, that detail. Terapia, the album that Erik Cimafunk published at the end of 2017, and which has been playing since then in nightclubs and in every cultural event that moves in Havana, doesn't seem enough. The Saturday Brecht can be happy with it another season; La Tropical needs more, much more.
My friends argue about what song should open the concert and the premieres they await. About the musical arrangements that are sure to surprise, and about the guests. My friends say that Erik has to invite someone big -Omara, to name one- to sing along with him and earn respect. My friends drink beer and smoke and say that maybe this was not the right time to do this concert, because Erik is taking the risk of getting burned. I listen and I agree sometimes and others I argue a little. We kill time.
Minutes after twelve Erik Alejandro Rodríguez appears on stage with Los Niches and releases that half-torn song that is Faustino Congo, without further ado, as he says: you came to enjoy with me, but first, you have to hear me. And, at least him, sounds amazing. It will be followed by tracks of Terapia and some "premieres" already known by his audience (Cocinarte, Regalao...), and others arranged to be sung in a duet or to give voice to rappers.
Actually, the tracks of Terapia more faithful to the original arrangement were the best ones played at the concert (Paciente and Ponte pa lo tuyo, this one with Robertico Carcassés at the piano), leaving Parar el tiempo, one of the most beautiful songs of the album, as one of the biggest disappointments of the night, sung as a duet with Isla Ochoa in a version that seemed not to have been enough rehearsed.
We also felt the change in the choirs, in which the new voices interspersed their role playing the metals (trombones), of questionable relevance at least in the songs of Terapia, where originally they don't exist. As if the band had not finished incorporating those instruments, and also doesn't seem to have gained too much in voices. In short, you feel the absence of Adriana Pimienta, which was so well matched to Erik's voice and style and energy. The rest of the band, with the exception of the keyboards in some track, fulfilled its role to the vocal height of a Cimafunk that, yes, takes over the stage from the first note and moves as if possessed to the beat of his funky, catching an audience that could not stop moving or singing alone until the end of the concert.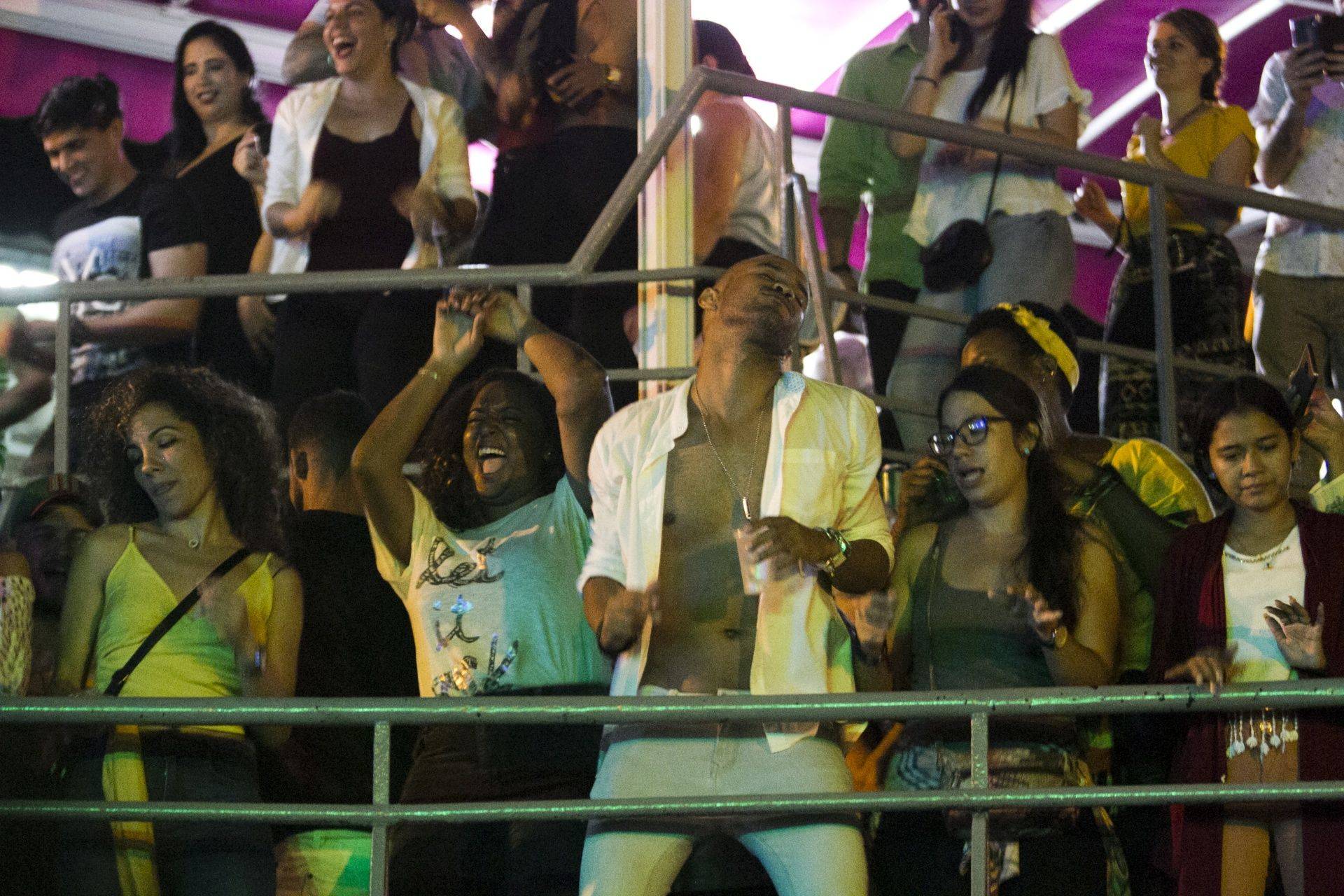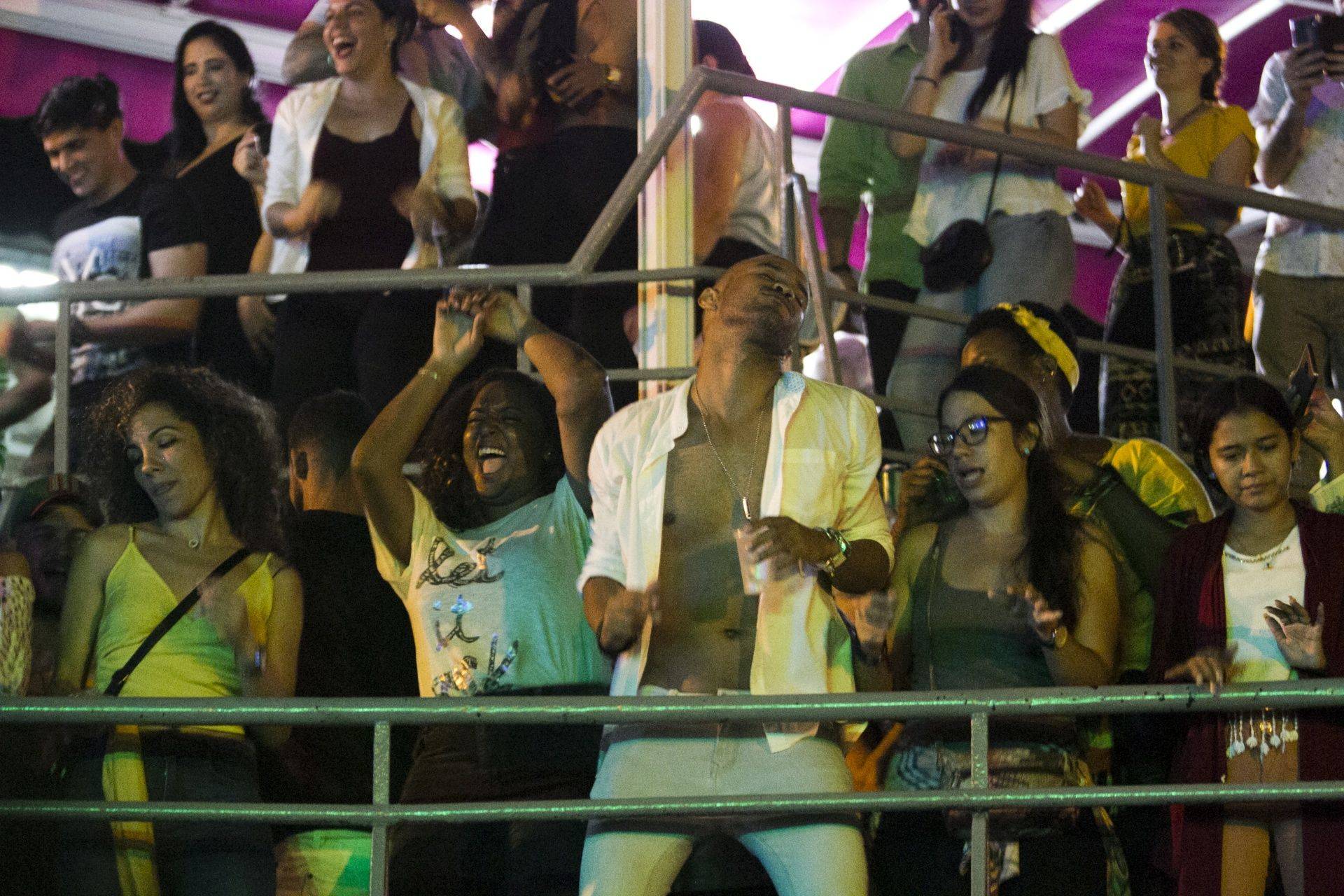 The audio - as always, but how long? - disappointed again. Brenda Navarrete, for example, was hardly heard in Alabao; a real pity for what her always sensual interpretation represents on that song.
Obviously, the concert was designed to impress. In terms of scene production, the design lived up to expectations. In musical terms, I'm afraid, it wasn´t new. Who has followed Cimafunk since reappearing in the Cuban music scene after the breakup of Los Boys, could have had a great time, but with a proposal exactly like the one we have enjoyed before in the Brecht, El Sauce or the Cuban Art Factory.
A year is little or nothing for the journey of an album, it is true, but when that same album has been playing live, almost weekly in so many places, it's time to reinvent it or give something new to eat.
That he was not ready for La Tropical? Can be.
Cimafunk came to move the floor to many of us for the first time in a long time, but that same fever that we suffer today for him can become an enemy if he relies too much on it. That we keep bursting the spaces to see him can not be the reason for him to offer the same thing over and over again. Not in a city like Havana, where often the reason to attend is followed by a resigned "what else is there?". We do not want to take off the "lycra", but we must still have reasons for it.
Diana Ferreiro
Periodista y editora casi todo el tiempo. Adicta a la tinta y al color rojo. Escribe menos de lo que quisiera y escucha más música triste de la que debería. "Café, cerveza y perreo" como mantra.
More posts
---