Reportages
Long live the Havana World Music
27.03.2019
9 min. de lectura
The Pink Room of La Tropical burned for three afternoons and nights in the sixth edition of Havana World Music, the festival that every year brings together bands and artists from all corners of the world in the capital of Cuba. The event, which took place on March 21, 22 and 23, made it clear that Havana is ready to dance everything, and that it wants to be nourished by new sounds and different rhythms.
In the previous days, a strange energy was felt: the change of last-minute location and the statements of the organizer, Eme Alfonso, that this was going to be the last edition, the revolutions with which a festival usually starts came down a little. But the Tropical worked, - although it lacked the green of the Metropolitan Park -, and nothing else was necessary to wait for the second day, in full equator of the event, so that an Eme beaming with satisfaction told us that "if we agree with the institutions, there is no problem with 2020. "
And who would not want a Havana World Music 2020? This year, a total of 108 artists from 11 different nationalities came to Cuba to offer their music in a real cultural exchange, in which both artists and public had the opportunity to know without prejudice what is composed, what is heard and what that is danced beyond our comfort zones.
Thursday
It was the Muñequitos de Matanzas who warmed up regulars and curious tourists; after a stem de capoeira led the audience to see the Canadian sextet Barry Paquin Roberge - milan, velvet and mustache - whose eighties funk-rock got everybody dancin ' while it was getting dark.
The Cypriot trio Monsieur Doumani gave us a session of folklore to the sound of a guitar, a trombone and a tzouras, a traditional six-string Greek-Turkish instrument that transported us for a little while to the shores of the Mediterranean. And the Korean Men also showed off their traditional music "more than a hundred years old, but arranged", and fused with jazz.
With all those proposals on the stage, one stops to think about how difficult it must be to coordinate this event. Members of the technical production recognized that World Music is a quite complex festival to organize, partly because of "the variety of genres that exist, and the consequent infrastructure that this requires". In addition, in Cuba there is not always everything necessary to guarantee, at the technical level, very specific needs of some bands.
With the full moon, which seemed more like a spotlight illuminating the Tropical, Cimafunk closed the night in one of the best concerts I've seen in the band. The group that after winning the First Base contest in the past World Music saw its presentation canceled, today it is headlining the event, is on tour in the United States and sets up stages and tracks at every step.
Friday
After an open class of afrobeat, the Women of the World project took the stage, formed by the French-Colombian bassist Ëda, the Cuban pianist Leyanis Valdés and his brother the percussionist Jesse Valdés, who replaced the Indian Renu, who at the last minute could not come, something that It made me wonder if there were not women percussionists capable of doing the substitution.
Without wishing to undermine the interpretation of Jesse Valdés, and thanking him that he probably had to "save" an extreme situation, it took me a while to assimilate that a project called Women of the World, or the World Music organization itself, have not done everything possible (and more) for putting a percussionist instead of a percussionist.
The space that men enjoy on stage, the arts and public life in general is already enough for a project called Women of the World also have to have a male presence. From there we went to see Eme, who shined with his own light before a grateful audience. Kumar burst the stage with his Afro energy "from religiosity". With tremendous ashé and accompanied by the members of the Rumbatá group from Camagüey, he sang to the orishas and made dance to an audience that was almost in a spiritual trance.
After him, the group Francisco el Hombre spoke to us in Portuñol about the empowerment of women and the rejection of Bolsonaro, the ultraconservative president of Brazil, to whom they "dedicated" a song while a part of the audience chanted "Lula libre". The good vibes inserted in the political character of this band was, without doubt, one of the highlights of the festival. The ending came with the Americans Ozomatli, who with their fusion of jazz, funk and hip hop closed a second night almost against the will of the public who lived an endless charanga.
Saturday
The third day everything flowed. Yissy & BANDANCHA arrived "rolling" with their comparsa while the audience was still gathering in the sunlight. Telmary started strong with The revolutionaries and raised his fist to the cry of "we are the people". She and her "queens" (the show girls) looked divine, with glitter lipstick and their usual control of the stage. He thanked the existence of World Music because "such festivals lack this healthy Havana".
Diego Guerrero gave us the teachings of the "maestro" El Cigala with some highly complex bulerías. The Andalusian was grateful to be able to share the stage with Cubans Julito Padrón and Adel González, whom he considers other "teachers". And from Montreal, the Nomadic Massive group made us dance with a committed hip hop that we had already met a year ago in this same festival.
Almost at the end of the last night, with a lot of reggae and shouts "for peace and love", Vox Sambou (Haiti-Canada) made a call to the union that is capable of generating music: "we are all the same people, so raise your peace up and make some noise for Havana World Music ". And in immediate contrast, were Elito Revé and his Charangón who closed the night to the rhythm of pure Cuban salsa, creating a real square where to dance casino until the air no longer reached and the feet no longer supported us.
Long live the HWM
While every day of the festival brings a chapter of reflection, when the event is over, the hangover is stronger: to process all the information of three days loaded with so many inputs Different is a job that requires some silence and stillness. And that's where one realizes that the sensation that takes is to have learned different rhythms, messages and aesthetics. To have been exposed to all this to think, to force yourself to think, and to try to understand. It's almost like traveling. Yes, World Music is like a fleeting trip around the world, and through Cuba, because it does not forget to value the Cuban with a selection of national artists, thus reaffirming a culture and pride in its own.
We speak with the organizer, Eme Alfonso, who defends that bringing music from the world here is important because "we are in a very strong musical crisis" in which "the traditional genres such as salsa, son and changüí are being lost". Although he thanks reggaeton for the "global repercussion that he has given to Latin music", he thinks that right now "he is hoarding too much". That is why Eme understands as "mission" that "young people receive the culture of their country as if it were something fresh, and that at the same time they can know what is happening outside the Island. Only then," he says, "is education an audience with criteria, which is what we have been achieving over six years. "
As for the "frictions" with the institutions, he recognizes that in order to maintain a festival like this one has to "do a joint work", and that is why he is willing to "ask them what can we improve as a festival: I want to sit down and talk with them ; I think we deserve it. "
With all the desire to realize the dream of giving more and better years of life to World Music, I dare to make a small wish list for future editions.
The first and priority: a protocol against aggression. I saw and suffered several machista aggressions (verbal and physical), and I felt totally unprotected. There are ways to combat that as an organization: in the same way that the use of drugs is not allowed, for example, or the entry of glass, it could be established that no discriminatory aggression (sexist, homophobic, racist, etc.) is tolerated. ), and that there are points of reference where to go in case of feeling assaulted or assaulted, and that from there a protocol is followed in this regard.
Second, there is the option of purchasing reusable cups, to reduce the consumption of plastic. In addition, more containers are urged to throw away glasses, food remains, etc.
It would be great if there were options without meat in the gastronomic offer.
That the festival takes back some of its old venues (Parque Metropolitano or Echevarría), or that it moves to an open place. One of the most attractive features of the event was its ability to summon crowds in spaces designed for free enjoyment: no walls, no corridors or internal fences. They should not let that feeling of freedom escape.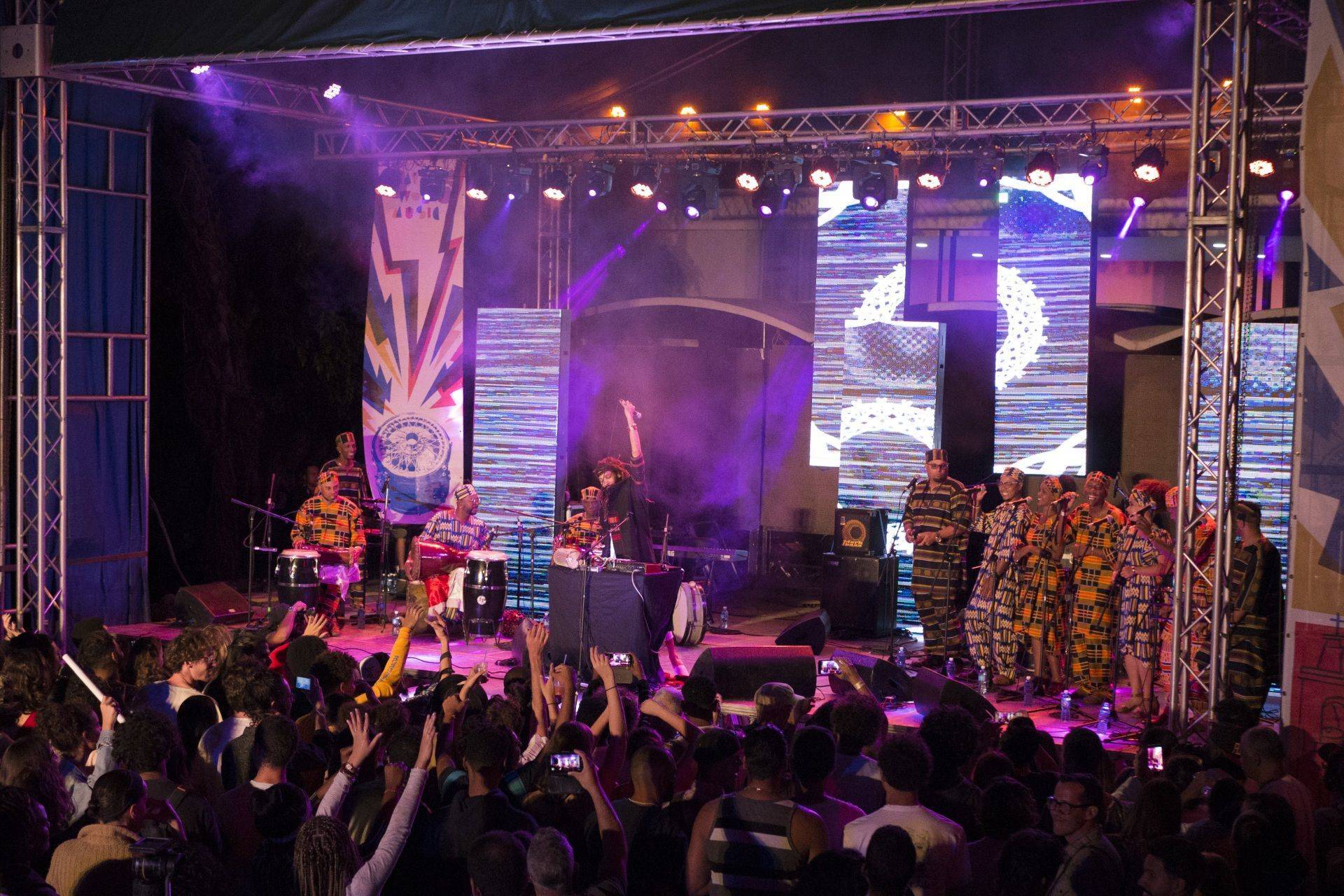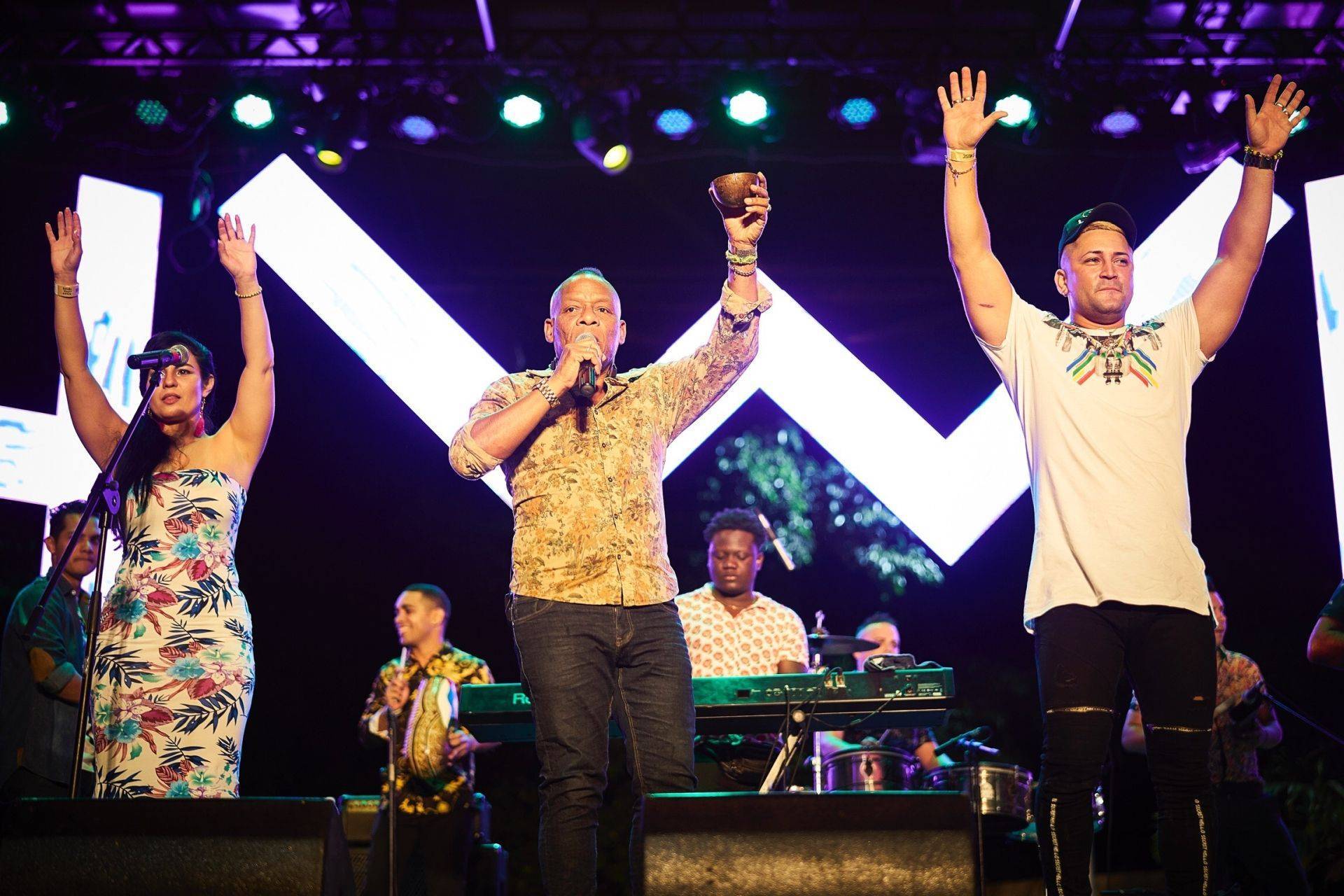 Concierto de Korean Men en el Festival Havana World Music 2019. Foto Natalia Favre
Concierto de Cimafunk en el Festival Havana World Music 2019. Foto Natalia Favre
Festival Havana World Music 2019. Foto Natalia Favre
Concierto de Eme Alfonso en el Festival Havana World Music 2019. Foto Jorge Luis Toledo
Concierto de Kumar en el Festival Havana World Music 2019. Foto Natalia Favre
Festival Havana World Music 2019. Foto: Natalia Favre / Magazine AM:PM.
Concierto de Telmary en el Festival Havana World Music 2019. Foto Natalia Favre
Concierto de Nomadic Massive en el Festival Havana World Music 2019. Foto Natalia Favre
Festival Havana World Music 2019. Foto: Natalia Favre / Magazine AM:PM.
Concierto de Elito Revé y su Charangón en el Festival Havana World Music 2019. Foto Jorge Luis Toledo