Reviews
A fool in Luna Park
31.10.2018
6 min. de lectura
You could be on either side. The Nueva Trova, whether we like it or not, polarizes. You could lie down in the most neutral area but Silvio is Silvio, with a huge piece of work, which shudders, and more if difficult airs are blowing like those of Argentina in October and 2018.
Silvio's in his first concert in Luna Park was the apotheosis. I presume that he himself wanted to lie in the area as neutral as possible, but the screams reached him and he tried to cling to silence and respond with a song. "Mauricio Macri, the whore who gave you birth, Mauricio Macri, the whore who gave you birth" and Silvio was silent and clung to his guitar and gave another song. It was about two hours in that happy bid between who sings and listens: Silvio proposed the new, his Tatagua that is no longer that Mariposa, while the Argentine public -which is beautiful- patiently expected the song he needed. The urgent.
Tonight Silvio Rodríguez again had the musicians who have been with him for some time: Niurka González on flute, clarinets and choirs, Rachid López on guitar, Maykel Elizarde on tres, Oliver Valdès on drums, pianist Jorge Aragón and Emilio Vega on the vibraphone and percussion. He also had the sound by Olimpia Calderón, Enzo Estrada, Jerzy Belc (El Polaco), the same who recorded the first records of a very young Silvio.
Let's say that we are very neutral in the Luna Park, the capacity is 6,000 people and it is sold totally. Silvio says with suspicious neutrality: "This first moment is dedicated to the woman, then we do something else", and goes from song to song for themes where the woman is unleashed: ... "today she spoke of rifles firing dead, I know that she love ... "he sings in that immense song dedicated to Tete Vergara, and continues until he intones Eve (the hit of the tour, a song that Silvio had not touched for 30 years) and thousands of people standing up - men and women - take out the green handkerchiefs and repeat that slogan that accompanied them on several marches throughout the country: "legal abortion at the hospital". Slogan, the word is important.
Silvio only sang and the phrases emerged, that is, the slogans. It is like a kind of infallible connection, the work of the troubadour is revitalized in certain contexts. What could seem trivial to a Cuban in Buenos Aires today, in Luna Park with about nine thousand people inside does not go unnoticed.
Each word counts and counts deeply, that's why Silvio is tied to his universe. He proposes the new songs, they ask him hopefully in the middle of the show and he replies: "If we sing, I hope this ends". They applaud him.
Anyway, at night there is room for your usual topics: I will love you, beautifully accompanied by Niurka González, (remember that we are in neutral zone, the most neutral possible, but imagine the whole audience in silence, accomplice); Mace (here total accompaniment), Seagull and look, Fool, requested by the public, almost obliged. Fool, with the people standing, and again slogans, that sprout from the rage, the pain. It's that you can not get one thing out of the other. Just a few hours ago they repressed and arrested a score of young people. It is a country where sidewalks often have plates of people who never came back.
Almost in the middle of the night, Silvio decided to stop singing to make way for an Argentine artist who he says he admires a long time ago. They entered a blind musician, who laid his guitar on his legs, thanked and played and sang in an incredible way. The guest made three pieces: Who said everything is lost, I give you a song and, at the request of his musical host, the tango Nothing, by José Dames. The applause was full. It was Nahuel Pennisi, 28-year-old street musician, who went from earning coins in the corners to being a Carlos Gardel winner and a Latin Grammy nominee for Best Traditional Pop Vocal Album.
The thing is coming
"In Old Havana a barber placed a sign in his shop that said 'Prohibido hablar de la cosa'". Silvio made the anecdote; They laughed, we laughed together. A Cuban in Luna Park has his thing, the Argentine his, but Silvio finds everything in a song that moves the audience, because we do not forget that with that band, one manages to go from the song to the Brazilian sound, flirts with rock or the classic but there is a lot of son and rumba. "The lyrics are great, but the music is a little weird," said a girl in her early 20s with a green handkerchief tied to her left hand.
"The thing comes, however unfair" sings Silvio, attached to the sonero, near the end. But he had not sung yet hopefully. He had to leave four times at the insistence of the public. The six thousand people: "Olée olé olé oléee ... Silvioo, Silvioo ...", who thanked Cuba, who asked for another, until at last, already insinuating itself at dawn, the expected hopefully and people are delirious.
The Luna Park listened to a Silvio who remembers the thirties but who already exceeds the seventies; with melodies that have been changing, adjusting to their current tone, but sung with immense emotion. Certainly the Nueva Trova has that gift of going from love to brokenness, and in cases like the Luna Park brings music to the feel of thousands of men and women who demand a song to think what they now live. Silvio came to sing, as neutral as possible, but his work is placed in the center of these people's chest and helps them scream for the dead and the pain.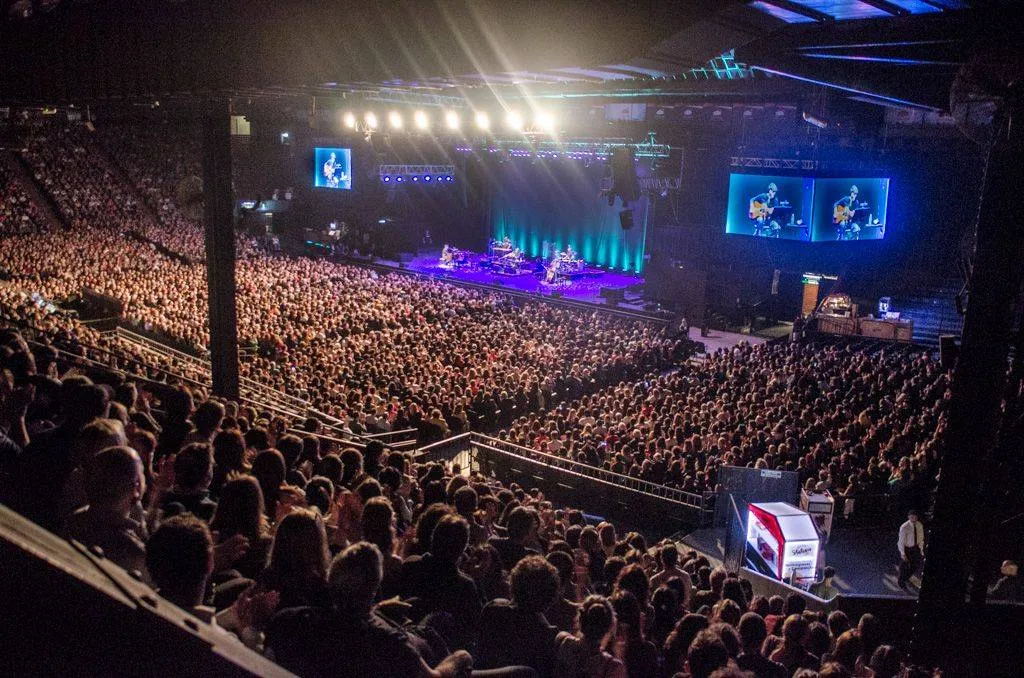 Silvio en el luna PArk fotos Kaloian25102018-10
Silvio en el luna PArk fotos Kaloian25102018-23
Silvio en el luna PArk fotos Kaloian25102018-50
Silvio en el luna PArk fotos Kaloian25102018-62
Silvio en el luna PArk fotos Kaloian25102018-66
Silvio en el luna PArk fotos Kaloian25102018-73
Silvio en el luna PArk fotos Kaloian25102018-74
Silvio en el luna PArk fotos Kaloian25102018-89 (1)