Interviews
All (or almost all) Kumar's revolted beats
07.01.2019
20 min. de lectura
On this side of the connection, the Messenger window that says Dasari Kumar Mora is on. On this side my notes and two YouTube tabs with videos and live sessions that do not finish loading. On that side of the connection, I imagine, Dasari Kumar behind the keyboard waits for my questions, surrounded by beats.
We have tried, since we began to talk about the idea of interviewing him, to escape from the questionnaire answered by email, and to establish a dialogue that reveals to me the Kumar that fell into the pot of the world music and it turned out to be Sublevao Beat. The rapper who undertook a trip through much of Africa to create an album that is, in itself, a journey, which is called Afrikun and that has not come out yet. But before I ask him when is there "Kumar Sublevao Beat", all together. I want to know if it's just an artistic name or an aesthetic.
When he arrived in Barcelona, he tells me, he realized how difficult it was to reach him through a search engine. The fastest way to find his job was to google "Kumar-Cuba-Cuban", or something like that. So far he had been fighting with what he was doing was Afro-Cuban hip-hop, and that's how he had sold his first album, Película de barrio (Universal, 2008). And somehow he was convinced of that. But people have always had the need to pigeonhole things, to know "exactly" what genre and what rhythm and where I shall put you; but what Kumar was doing at the time was too eclectic that escaped a couple of definitions. It was not until Patakin (Bismusic, 2012), his second album, that he began with "the wave of saying: this is Sublevao Beat", which also happened to be a pseudonym for his producer stage.
Kumar is Sublevao Beat when he is behind the machines. When are the beats who speak for him. It is also a concept of how Kumar plays percussion, he explains, and bit by bit it became his battle name as well.
Now seekers love him.
-Lets start by the beginning. You're from Mantilla, right?
-Yes.
- Did you study music? Something related?
-No, I studied general electronics. But I was always participative in school (laughs).
- Where did the restlessness for music come from then? How did you start?
-I started with the school band, and by the 97 I collided with the rap. The pioneer groups of hip-hop were my first great influence.
- Who specifically?
- Alto y Bajo, Cuarta Imagen, Fuera de Ley, Obsesión, Amenaza, Doble Filo, Explosión Suprema, Hermanos de Causa ..., these were the bases of Cuban hip-hop. Let's say I'm from the second generation of hip-hop.
- How was that "clash with rap"? How was the first time you threw rhymes on a stage?
-The first was a "tape" of Combate Directo and Fuera de Ley. This blew my head up with 14 years old. So the first scenario was in some school activity. I remember that my colleague was embarrassed and I ended up doing it alone: in high school, in the schoolyard, in the sunlight. First I was singing those groups´songs, then I made my own. Already in ninth grade, I was a total rapper.
- What did you write about at that time? What did you want to talk about?
-Well, the first inspirations of rap were super positive: songs to mothers, to girlfriends, to life, against drugs, to anti-racism, against violence ... Positivism and resistance.
-We're talking about the late 90s, right?
-Yes. And a little later came the theme of roots, and to assimilated rap as Cuban music, and then the theme of blackness appeared, and with it the spiritual theme.
- Did you know then that was music what you wanted to do in life?
-Yes, from the beginning.
- It was a difficult moment for the urban movement, right? Although perhaps it has always been difficult ... how do you see it?
-It depends. It was a great time to do it. The people of the neighborhood, especially the blacks, needed something that represented us better than timba, so the rap came in good time for all those who wanted to have a different swing to the cast.... On the other hand, the institutions and the school musicians made resistance because they said that this was not Cuban. Until Orishas arrived and everything changed and, at the same time, it took political tints and for those who had this inclination was more difficult diffusion.
-Weren´t you interested in that line? Didn´t you have things to say about it?
-I always said things about it, originality was in saying things each one to its form. When talking about politics was fashionable, I was already going through a question of identity, something that the Cuban of the Special Period renegade a little, or sold to tourism. Then I was interested in the most spiritual theme, and from there [I went to] understand that it was a problem of conscience.
-Why was it of conscience?
-In the beginning the whole thing around the Cuban rap was very charged to defend its existence, to talk about rap as a culture, to try to create in some way the identity of Cuban hip hop. By the end of the 90s, early 2000, there was a wave of rap, and with the entrance of the American rappers (to Cuba) they started talking about blacks, and there they were Obsession, Anonymous Council, all these groups that defended a Afro-Cuban identity; and as such that generated in the blacks a concern to defend their identity, their roots ... I think it was also somehow political, but it was not a direct conversation with the government or political institutions, but with the people of Cuba, because Consciousness began from there, from accepting that there were many problems in the Cuban's own idiosyncrasies and that was transferred to politics, society, culture, and the rappers were making strength to offer a different vision.
It was Mantilla, a neighborhood on the outskirts of Havana that describes with a "you know, a lot of atmospheres, a lot of santeria, a lot of afroculture", who injected Kumar -his music-, that conscience of which he speaks.
"So it was joined by the irreverence of hip-hop and the desire to be in something different, to express myself, to take the floor and give it a more personal swing; mixed with all the Afro-Cuban mechanics and began to generate in me a type of language that was loaded with the attitude of rap, but with a message of salvation that also bring all patakines and orishas, so one goes a little better in life".
-So Película de barrio came in the middle of that process of self-discovery?
—Película de barrio came to be the first album where my first ten years of searching were represented.
[bandcamp width=100% height=120 album=3003933844 size=large bgcol=ffffff linkcol=0687f5 tracklist=false artwork=small]
-You already had your identity clear, you already knew at least the way you wanted?
-Yes, I already knew it. Look, when Orishas came out, I was in a group called Familia 'Cuba Represent, and we had the intention of bringing out the traditional Cuban Afro music with a bit of hip-hop, and by the time they left we were also in that search, what happens is that they brought out a very well produced album and very clear about the intention of where Latin hip-hop could go, then at that time, 2002, I take out Sublevao, the starting point where it looks very clear already: I put the batá, for example, and that talks about cimarrones and things.
To post Película de barrio it was not an easy walk. There were songs from 2003 and there were songs from 2006. There were rap things "very clear", and there was fusion with jazz players and with representatives of the Cuban alternative scene. Thanks to the Spanish band Ojos de Brujo, he was able to start recording and put together an album with sixteen songs that the Europeans could not digest. Película de barrio, in addition, sounded a little outdated, because in Cuba we are very authentic, he says, but we go back with the sonorities and, although it had musical quality, as production sounded a bit old.
So, quickly, he returned to the studio, now in Barcelona. There he cooked, on the subjects that he brought and on others that he was doing at the moment (there were Caravana, Medio siglo, Óyelo), a "less baroque" album that finally came out with Universal.
-It is not very clear to me the moment of your transition from hip-hop to world music. Was it like that, from hip-hop to world music? Because in Cuba you are still known as "Kumar the rapper" ...
- Oh, dear, that is not clear to me either. I started rapping in '97, already in 2001 my music had another influence, but it was rap, and then I picked up alternative music and started to be a rapper who sang with Interactivo, with rockers, with reggae musicians, with the rumberos ..., then I was a "fusion rapper ", pioneer in the alternative music of that moment, influenced of course by Habana Abierta, Interactivo, all that wave that was the closest thing I had. My first shock with the world music is with Ojos de Brujo, in 2007, and I was already sampling things that had that wave, that influence, but really they blew my mind off with everything they were doing. And they were world music alternative, to call it in some way; well, starting [from] that in the industry world music is Omara Portuondo, for example, root music, folklore ... So, speaking clearly, I've never stopped being a rapper, but my music started to have colors world music from my last year in Cuba, my arrival in Barcelona and my meeting here with musicians from all over.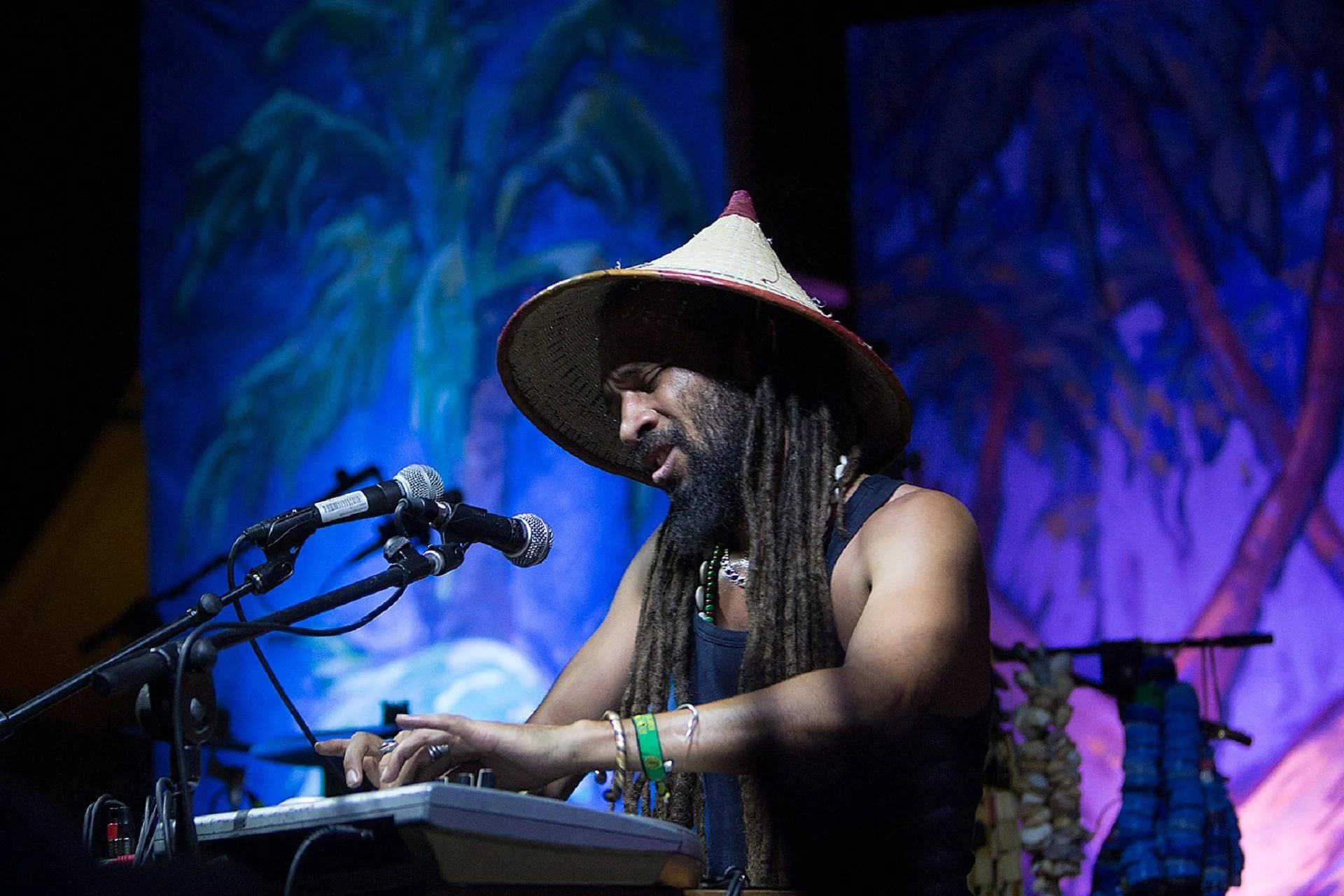 Kumar Sublevao Beat. Photo: Ronald Salazar (Courtesy of the artist)
Already in Patakin listening. But it is really with Sub-Elevation (Scioué Scioué Productions, 2014) that Kumar reaches in his music the spiritual level he was looking for. It is when you "awaken your being" and experience from an area where you have very clear where you want to go. And go if it succeeds. There is a huge influence of Ethiopian music, but also of contemporary jazz and he started from a live series he had made since 2012 and was called Mandinga Sessions. It was not the first thing it produced. Since early 2000, in his native Mantilla, Kumar managed to start recording, thanks to an old computer, his own sounds and those of some rappers, such as Telmary, whose hand "entered the world more alternative and musical of the island". The nomination of Arará Force, the most recent album of her, produced by him, gave him an immense joy - he says -, because "it is one of the few times that Cuban music linked to rap and with an alternative character has that recognition".
- How do you think production is going in Cuba these days?
- I have always had the feeling that in Cuba we live at a very different rhythm, we have our form, our sonority, our idea of how we conceive music, also based on the little access to the information we have and the technology. The world of urban music, reggaeton, has a sound that despite being made in a home studio It has developed a quite peculiar concept as far as this genre is concerned, and there is a lot of variety and the studies sound every time better. In that case, as happened at the beginning of hip-hop, they have tried to innovate or give reggaeton a more Cuban stamp of identity, and that is super. [You have to] understand that although it does not have many musical values, today there are a lot of musicians behind reggaeton productions, and they are sounding better and better because they are having access to other types of studies, and we can see that the production, at the level of resources, has also greatly favored.
"Hip-hop is another genre that keeps producing stories in the underground of Cuban culture. Better and better, with more quality, more in connection with the world sound, and it can be said that Cuban hip-hop has its sonority when seeing works like (Alexei) El Tipo Este, or El Lápiz, and I think that who is going at the head right now is Guámpara Music, they are the most complete and authentic as structure and are focused on a sound and an identity. Jazz, after listening to everyone, I feel that although there is a lot of talent and mastery in the execution, it is less innovative in terms of styles and sounds. For its part, the electronic scene is also producing very interesting things without stopping. "
- You are right now in a process of research within electronic music ...
- All this wave of making music with machines and sessions live they made me somehow start doing the show [like] solo with my machines. Pablo Herrera told me about the Manana Festival and I went to Santiago de Cuba to the first festival, to call it in some way, that united Afro-Cuban music with electronic music, and that really aroused great interest in me. I had already done my first samples of Afro-Cuban songs with intentions as well as house, but I had taken his foot because the electronics seemed something still very synthetic for me, and when I returned from the Manana Festival (almost three years ago), I returned everything inspired and bought another sampler and began to take up the concept again. A very paradoxical thing, because I had already done it with hip hop, then I took the same concept that was exploding and I put a more electronic sonority, more towards the house, the deep house, the down tempo. And that started to invade my music, right now I'm at that Afrosideral point, which is nothing more than a cosmic music that has that spatial, spiritual sensation too, with a beat very Afro-Cuban.
- You talk all the time about the spiritual, and I want to know if that spirituality is religious or if it is another type and how you live it.
-Yes, I am totally spiritual. I do not know if it shows in the music.
-Yes, it shows.
-Of Sub-Elevation from now on it shows more, but in Película de barrio it's shown too. I am increasingly disconnected from the word religion; If I have a religion, it's music and creation, because I owe it to her, and that's the way I really express my faith. Then I have my spiritual beliefs, that some are rooted in Cuba and its Afro-Cuban environment because they come from family; of course I have my practices and my Afro-Cuban spiritual things, but when I refer to that, I speak of something more integrative, something that perhaps is a mixture of all that Afro-Cuban heritage and my father who is also a master of tai chi and reiki, and that has also generated in me a holistic point of view, and also living outside of Cuba and encountering other spiritual practices such as Buddhism, Shintoism, Hinduism, other readings of Christianity, indigenous cultures ..., when you come to see you are a person who mixes ancestral things with the thoughts of philosophers and scientists, it is a very comprehensive and very new age.
- If I asked you: is your music the result of what?
- Right now, at the point I am in life, that's pretty easy to answer. My first five years, as a teenager, I had a need to give an artistic channel to all that expression that teenagers have when they are looking for things to do. The next five years were a reaffirmation and to understand that I had to find a way to be authentic, and then I focused very much on finding my roots. In the next five years I would start the deepest part, it has been the detachment of Cuba on a geographical level, the consolidation of my roots as the basis of my identity, that is why Afro is so important because it is the strongest identity to which I cling in my culture, even though I am also the heir of Asians, Indians, Europeans ... Let's say that this fortnight represents all of that: my roots, the consolidation of finding a search for a sound that would make me authentic, but at the same time be in connection with the contemporary. It has been important to demonstrate that hip-hop is a music that can be quite musical, that can have an identity even if it was created in the United States.
So my music has two processes, the musical part with all that research, the idea of giving the music a peculiar, authentic wave, even if it's machines and sampled have that organic wave until you get to the electronics. On the other hand, the letter is giving birth to that search for truth, for the need to give depth to my thoughts, to give it poetry; every day I try to be deeper, but simple when it comes to expressing what I feel. Go to the most basic things: to be able to speak of love, of equality, of humanity, of spirituality, of the universe, of nature. I'm going for music that has its own speech, which is authentic in itself, but which seeks an extra-sensory language through music, which moves things, I'm aware of the frequencies, of the things that are not they hear but they feel. "
Kumar Sublevao Beat. Photo: Aki (Courtesy of the artist)
On that side of the connection, Kumar has been straining in the audios of his answers some beats. It seems, as he speaks, that he sinks into that "Afrosideral dimension" that emerges behind his voice. "Let's see if you like this" -he says-, and give play to some topic of Afrikun, the album that I have promised not to copy to anyone while it is not published. The album on which I listen to several Kumar, and all together sound like monte. A mountain of more than five hundred years.
-I had recently discovered the whole roll of Ethiopian music from the vinyl compilation Ethiopiques, which was released by a collector and, like many producers, I could not resist. There the collaboration with Daniel El Congo began, and then we considered the idea of doing this project that would be like a trip through Africa through music.
First, it was the process of investigation, the inevitable spiritual connection; and then the trip. The physical journey, I mean, through West Africa, listening and dancing and discovering instruments that would later be vital in the sonority of Afrikun.
The collaborations also came from the Mandinga Sessions. Although in duo and trio format, Kumar had played there with several African musicians who responded to his call to make this record. And it happened to be, "for its stubbornness", an "African integrating project".
"Afrikun it has gone from being a musical project to a totally integrating culture project. I would love to have the support of the Ministry of Culture (of Cuba) or something like that, to be able to take it with the Africans and present it at a festival like Havana World Music, for example, and be able to take the artists to the ISA and talk about their instruments, of their cultures, of their languages, that in some way we can do something didactic, that we can teach people to build instruments with recyclable materials. And then I can take this western essence to Africa, get there with my machines and the other with the trumpet and the other with the sax, and connect the new generations with technology but without losing the awareness that what feeds those boxes technological, those samplers, and those machines of today are super old instruments, those super old music.
"It's my favorite album, with distance, not only for what I could achieve, but because for me it's a great gift to be able to listen to all those instruments in my music, to see how Africans flip with what I can do through the machines, and also with the love that Africans feel towards Cubans. "
(1) Despite what many may believe today, the cast was not born with Chocolate MC and company. So it was also called a certain variant of the timba that starred groups like the Charanga Habanera and Michel Maza Márquez.