Reportages
The sound of the factory inside
22.03.2019
10 minutes. Reading
The line of people has grown from seven or eight at night. It is about 70 meters long and turns the corner. Many are impatient: it is eleven thirty and they know that at any moment the security team at the entrance could cut the line of a block, and send home all those people who want to immerse themselves in the Cuban Art Factory (FAC) . Then we will have to reorganize the night or go to sleep.  
For five years, the Havana cultural compass points towards the old oil factory on 26th Street, between 11 and 13, in the neighborhood of Vedado. X Alfonso anchored there what began as a project of exchange between audiences and artists of various disciplines, half itinerant around the city.
The compass is not an exaggeration. In the capital, when you go out partying, you can go around several destinations but it is very likely that if you did not stop the first one in FAC, you do it when the cinemas and theaters close, check that prices continue in the sky in the club The Fox and the Crow, or at the Jazz Café, and suspend any of the clubs that survive in Havana. From Thursday to Sunday the Factory will have music, that's a safe bet.
The machine does not stop until almost four in the morning. It will start working again, invisibly, from five in the afternoon.
Three props, three sound technicians and two lighting technicians, and three production companies, are responsible for leaving the scenes of the Santiago Feliú room (Nave 1), the Theater (Nave 3) and the Concert Hall (Nave 4) ready. Before opening the doors they must "wire" the spaces, "microfone" the instruments, move the pianos where they are needed, do sound tests, solve some last minute request of the artist ...
At this point everyone knows who will play today, who will sing tomorrow. The programming of the concerts is under the aegis of Carlos Alfonso-director of Síntesis-, main voice in the subject of who takes the stage and who does not, although the coordinators Pepe Gavilondo (classical and concert music) and Iván Lejardi (electronic and electroacoustic) and the producers, suggest in turn include some artists.
At the beginning of the month they are organized every factory night and the schedule is reviewed every Tuesday. It is a flexible system that adapts to changes, such as the unexpected arrival of a foreign artist who asks to act, something more and more common.
When there is an event outside of the usual programming, the machine moves more or less similar, perhaps with more intensity, but with the same gears and designs. The producer Tania Menéndez explains that "FAC has a way of working and the next one has to be inserted in it, just because it works well".
At eight o'clock at night the essentials are ready to start. Along the way it may be that a line is cut, a console fails, or the timed departures of musicians are out of order, but the producers are attentive and ruminating b plans so that the seams are hardly noticeable in the act of magic.
Nave 1. Santiago Feliú Concert Hall
This is the smallest space in the Factory and the first to be conceived for concerts. Here begin the days of training for many young bands, and small-format jazz ensembles are usually presented.
"The most difficult thing is to ride every day: I always have a new experience, because here they play jazz, alternative music, funk or rock," says Jorge A. Temprano, sound technician.
But perhaps the main thing that is alive is electronic and electroacoustic music, in long sessions organized by Iván Lejardi. He is the DJ Producer resident of FAC and the regulars know that he "warms up" behind the machines, sometimes for four hours or more.
Fábrica de Arte has become one of those rare places in Cuba where you can always find something house, techno, new age or experimental ...
Lejardi tries to reach a middle point between dance genres and more conceptual creation zones: "When I find something that I know could have a balance between the experimental proposal of the artist and the connection with the audience, I recommend it to programming".
The visibility achieved by Fábrica has turned it into something like a bridge between Cuban art and the world. "Many people watch Cuba through us, especially in the case of foreign DJs who think that our music is only salsa and reggaeton; It's a big responsibility to show them no, "he says.
Lejardi and the FAC team have collaborated in the bite of the Island that Paul Oakenfold, Chus & Ceballos, John Acquaviva, Questlove (leader of The Roots) and others have taken.
"Many Djs have agreed on the criterion that the next electronic audience wants to dance, directly, to connect with the artist on stage. International Djs feel that the Cuban public is one of the most grateful in the world, for their culture of party and the desire to know new and different music ", concludes Lejardi.
Nave 3. Theater
The key word is balance. "You always have to balance between ensembles and more recognized artists, with musicians who have not played here and to whom it is very important to give a space, "explains Pepe Gavilondo, coordinator of classical music at FAC.
Every Thursday, near nine o'clock at night, they close the doors, turn off the lights, and this creates the atmosphere that this genre requires. Two or three props are located at the access points, to regulate the flow of people in an area that is already open. "Sometimes the noise is a little uncomfortable," says Gavilondo, "not just for me, for artists in general. But hey, that is part of the Factory dynamic; it's not a concert hall. "
One of the producers, Yoana Grass, explains that this is an informal space and all the musics do not defend themselves well in these conditions. "If the public does not like a proposal, it goes to another room and the musicians are sometimes not receptive to these signals, but I think they are opportunities to grow for them, if they take advantage of them".
Programming is guided by flexible criteria. "Before it was strictly classical music, and over time various formats of contemporary, experimental music have been presented, world music... We have tried to expand that range, to try to show everything we can ".
The work is extended, in turn, when they share the official headquarters of several events, such as the Esteban Salas de Música Antigua, the Chamber Music Festival and, soon, the Casa de las Américas Composition Award.
The window for foreign artists remains open. "Everyone who arrives knows that Factory exists, and wants to play here. Sometimes you have to move Cuban musicians from a date, run them here, leave them for the next season or do double duty. "
Every week the public changes: one day they seem quieter, another day too many conversationalists. "It's the nature of the place and you have to deal with that, adapt, without completely closing a space."
Nave 4. Concert Hall
"The public that comes here is knowledgeable, they like experimental things, and that's what we're doing in programming," says Carlos Alfonso, who coordinates jazz, pop and rock events.
Even so, popularity or majority acceptance does not define the selection. For example, salsa and reggaeton are left out, since they already have other spaces. "We are not interested if the room is full or not filled. When the public leaves a valuable artist, and does not listen to it, what I think is: 'people missed it'. But if he is a good musician, we do not hesitate to program him. "
Something similar happens with guests from other countries. "We ask them to know what they are doing, to listen to recordings, if they are live, better; because they do not have to be good because they are foreigners. The problem is if they have quality; That is the criterion. "
In fact, Fábrica has been the scene of several memorable concerts in recent years, such as Dave Mathews and Preservation Hall Jazz Band. Some of these presentations have happened by chance, "but we always try to have the best ones here," says Marla Cruz, producer. Any place would like the biggest ones to be part of their shows, and for the public to later remember the site because that's where Marcus Miller played. "
What has been said: in season of events, the activity becomes more intense. The Jazz Plaza Festival, the Havana World Music, AM-PM America for their Music ... have a usual space in the Factory. "When the jazz festival is here, almost everyone who arrives passes through here: giving a class, a concert, or in collaboration with Cuban artists," says Carlos Alfonso. During those days, programming should be carefully wefted to avoid shocks.
"Many musicians come here, the public is knowledgeable, and that forces you to improve yourself every day," says Fabric Aguilar, sound engineer for Nave 4-. Who is there knows what he is hearing, what has to happen. That's why you have to work very fine. "
The night is young
Five years later, Fábrica de Arte maintains that vocation to provide space for those who start, or who deserve it and perhaps do not find it. "There are many who started unknown and no longer are; that is to say, this is a wheel, because they have grown together with the Factory, "says Alfonso. For example, Cimafunk, now I do not know if you want to come and play here "(laughs).
On the wish list is to achieve a closer relationship with schools, and continue vocational training with children. "It's difficult, but you have to keep trying to have presentations at the same time," says Pepe Gavilondo. If we let the whole world be in one area, and then in another, then it is not funny, because this is an interactive place, here people have to pass, go out, enter. "
Every weekend, from Thursday to Sunday, at least eight concerts take place. There seems to be the crux of having achieved -and maintained- a front position in the city's nightlife. "Maybe if FAC was in New York it would not be so surprising," Yoana Grass suggests. I think the distinction also comes by contrast, because people do not expect it in Cuba. "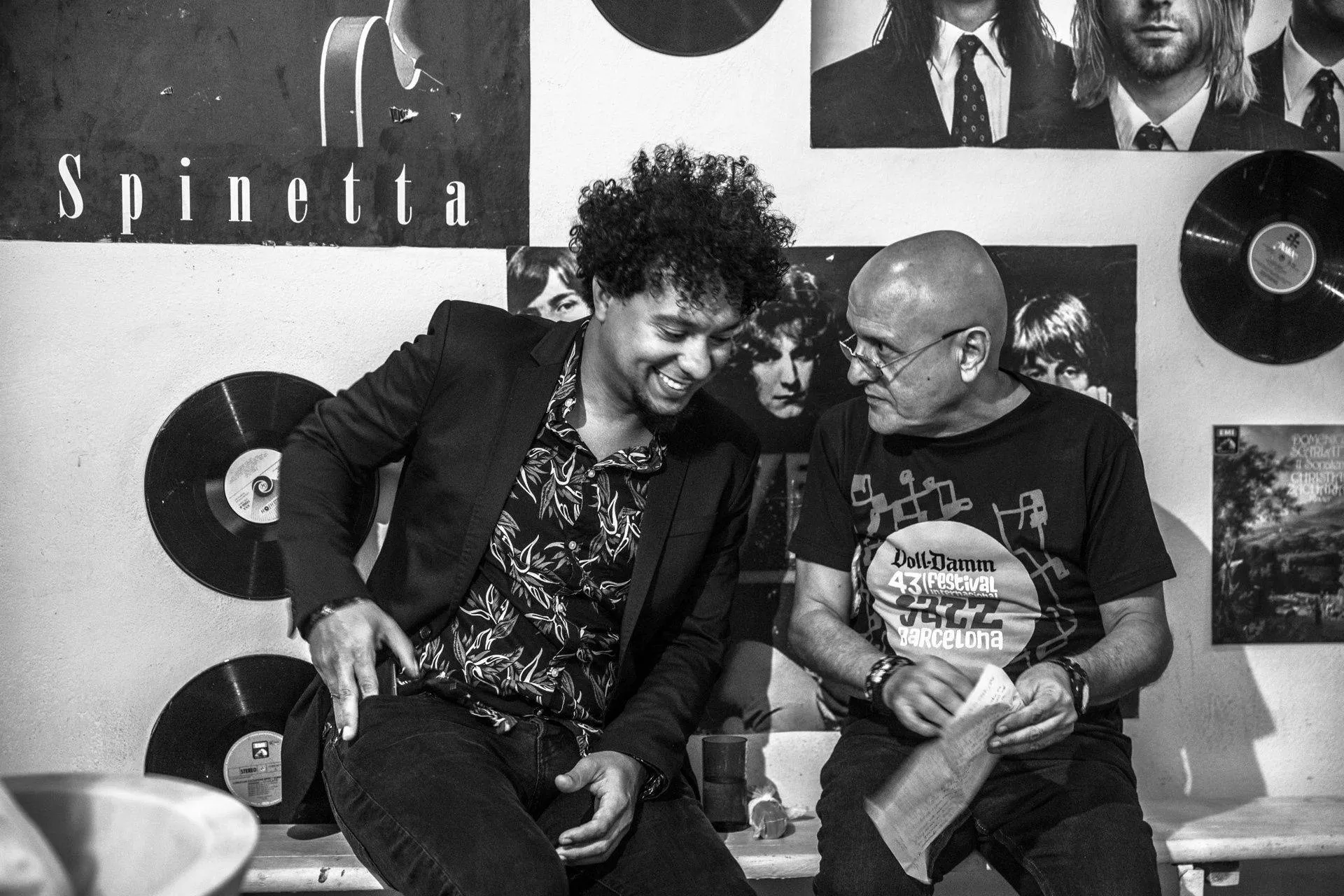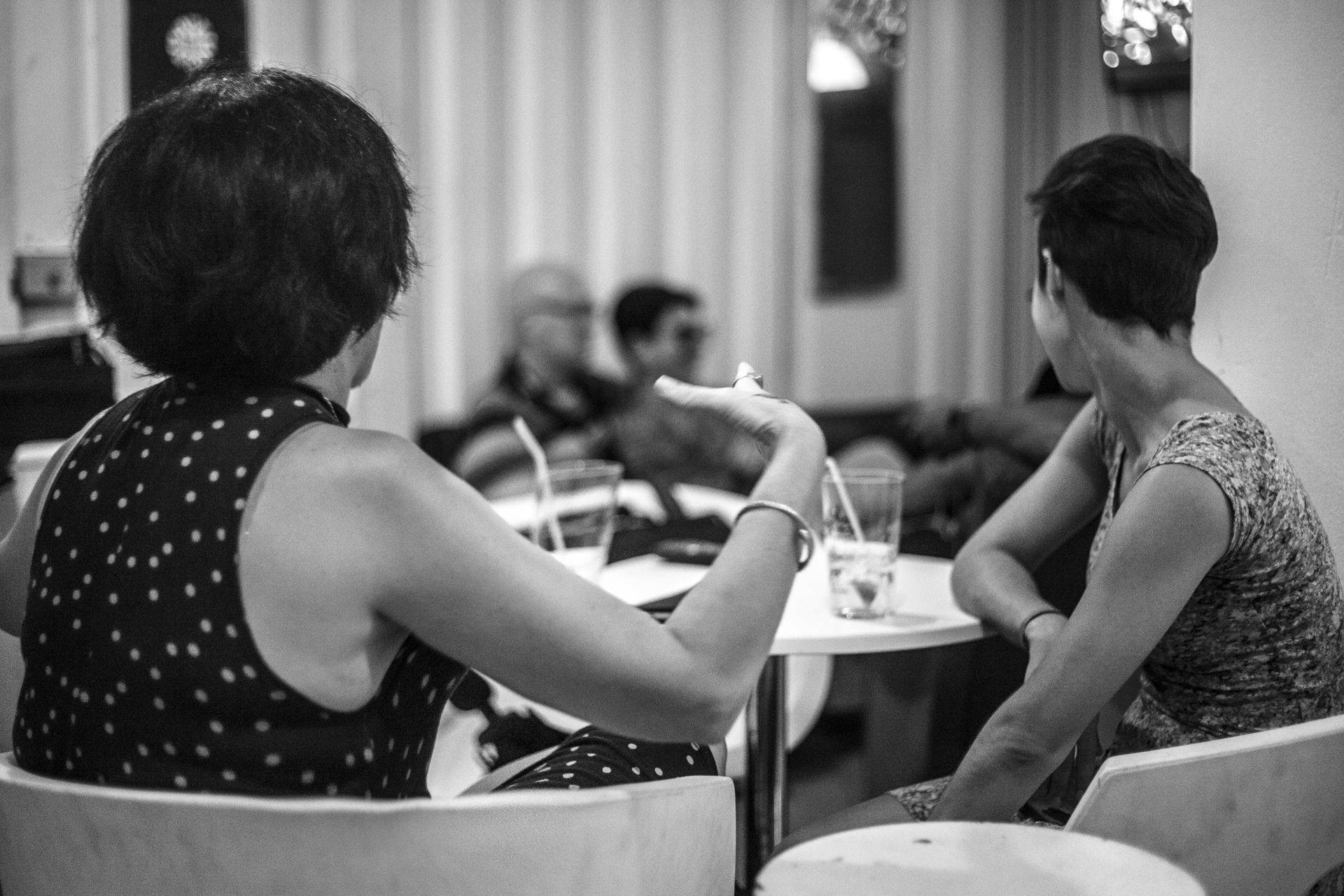 Backstage of a Dafnis Prieto concert. Photo: Larisa Lopez.
Backstage of a Pancho Céspedes concert. Photo: Larisa Lopez.
Backstage of a Preservation Hall Jazz Band concert. Photo: Larisa Lopez.
Drummer Oliver Valdés and producer Tania Menéndez. Photo: Larisa Lopez.
The pianist Aldo López-Gavilán and the announcer Juanito Camacho. Photo: Larisa Lopez.
FAC Production Team. Photo: Larisa Lopez.
Producers Tania Menéndez and Marla Cruz backstage at a Roberto Fonseca concert. Photo: Larisa Lopez.
Santiago Auserón and X Alfonso. Photo: Larisa Lopez.
X Alfonso and Billy Gibbons. Photo: Larisa Lopez.