Interviews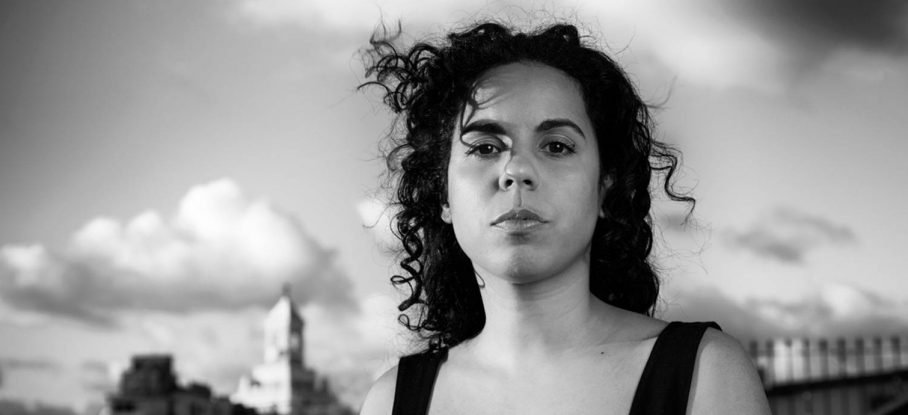 Danay Suárez, under the influence of God and nature
10.02.2020
23 min. de lectura
Danay Suárez es uno de los personajes más enigmáticos de la música cubana. Salió de la cantera del rap, de aquellos días en que Los Aldeanos y Papá Humbertico desde Real 70 le gritaban a la sociedad cubana que el rap es guerra con una agresividad nunca antes vista en el discurso del género. Pero en algún punto, el trabajo de Danay trascendió al rap. Su obra está marcada por ese característico fraseo melódico, un tanto monótono, que se desliza lo mismo sobre los beats del hip hop que sobre las armonías de un piano. De Danay, biografía sintética y discos aparte, poco se sabe en Cuba.
A pesar de que los proyectos Havana Cultura de la marca Havana Club la catapultaron a un pronto reconocimiento fuera de Cuba, nunca ha hecho propiamente una carrera en solitario en la Isla, si descontamos aquel concierto el 21 de septiembre de 2012 en Casa de las Américas. Luego haría algunos (en F.A.C., en otros espacios), pero formalmente hablando, el concierto que ofrecerá en la clausura del Festival Havana World Music el 21 de marzo puede considerarse su debut como solista en un escenario multitudinario en el país. Por eso le pedimos que enseñara sus cartas, que nos contara su historia, pero sobre todo que nos mostrara los detalles del mecanismo de su arte. Cuando Danay habla, sus palabras se parecen a sus canciones: son un fluir de su conciencia; no hay un orden claro a veces, se detiene en detalles confusos, pero aun así la fotografía mental que logra es muy efectiva. Hay un orden en su caos, y me pareció justo respetarlo.
You grew up on El Cerro and then moved to Santa Fe. What did each of these neighborhoods bring you, as an artist and as a person? 
My life began on El Cerro, in a propped upbuilding and danger of collapse. For that circumstance of housing, I was always thinking that I had to do something to get out of there, to project myself a future. At that time, all I had were my songs, which I recorded at the Real 70 Studios, beyond Guanabacoa. Outside of that, I had no chance in music, I didn't know anyone linked to it. I also knew that my temper had nothing to do with the orchestras of popular music. I felt that I was an artist, but I couldn't find a place for me. Although I was an artist and I had a work, that work was in no place. Meanwhile, I continued to live in those circumstances in El Cerro, unable to generate any income, unable to live with the music. 
Although life was there all the time in danger of collapse, I was always clear that what I could not collapse was my interior, my principles, that I could not prostitute myself to get a job.
I arrived in Santa Fe when I had already made a living as an international artist. At first, the silence of Santa Fe was a bit disturbing because, living on the Calzada de El Cerro, I was used to another effervescence. 
La vida en El Cerro afectó mucho mi manera de hablar y de expresar mis canciones. Si te das cuenta mis primeros discos son muy tajantes, muy directos. Ya los posteriores van buscando otra poesía. El silencio y la vida tranquila de Santa Fe no influyó tanto en mi creación artística; cuando me mudé para allá estaba poco tiempo en mi casa, pues viajaba mucho. Pero en esos momentos de silencio escribí una de las canciones más importantes de mi carrera: Yo aprendí, escrita en Santa Fe, a diferencia de casi todos los temas del disco Polvo de la humedad, que nacieron en El Cerro. 
You said you didn't feel empathy with groups of popular dance music. How do you find hip hop and discover that there you can start to get into music? Is it for friends or does it come naturally? What comes first, the friends of hip hop or hip hop and then your friends?
First, come hip hop friends. When I saw that they built their songs, that although they had no company and all those legal terms that an artist in Cuba needs to call himself professional, they still worked, I felt that it could be a possible door for me. What happened to the other genres of popular music? I did not understand them in my person; I grew up listening to Cuban radio stations that, at that time, spread the bolero, the traditional, and that influenced me a lot. From the beginning I had the illusion - and more to see the artists of the Buena Vista Social Club - of being that type of singer, although taking it to my style. But I didn't have an option to sing like a professional, nor a company, nor music titles, I had no places to develop like this, and obviously, in a rap-rock, I couldn't sing a bolero, but I also didn't have to take papers, I just needed talent and attitude. 
I came to the rock club for friends. I discovered that I had a talent for singing, but I didn't know how to rap, really learning to rap was very difficult for me. When I begin to master it, understand it and process it, I begin to develop a personal style, because I was not rude as a male, nor soft as an R&B singer, it was not very sweet. 
I was a product of Cuban hip hop, I liked to sing and make melodies, and I felt a little influenced by jazz and traditional Cuban music that I listened to. I knew I didn't want to sound like the Orishas, in the sense of making a fusion of the traditional with the rap; I didn't want to sound like Erykah Badu and Lauryn Hill either - although they have compared me so much with them; I knew that I did not want to sound like a man, that I was not an artist exclusively of rap, but an artist who could do rap and do it well.
On that path, do you feel you have found your space?
First, I wanted to be very well known. I think that all artists want to be, but now, after having found a purpose, I want to be known, but not for my ego, I want to be because as a member of this society I realize that people are making bad music and taking out the worst of their heart towards others. 
I want to make music that can serve the human being all the time, which is not specifically going to criticize a political system - because I don't even understand it and in the end, I have to submit, all citizens have to submit to the system in which we are. It is not focused on religion either; although I seek to speak from the spiritual, because I have evolved.
At this stage of maturity I want to sing boleros, but now what the world wants to hear is urban music, and many young people are missing listening to these artists who only talk about sex, money, drugs and themselves, boasting. And I understand that it is not my time to make a bolero record; I know how the urban genre works and I can release an album for these same boys who are hooked not so much with the artist, but with the music style. 
What happens is that I never want to do what everyone is doing. That's where I get lost, I want to go against the tide. I see that everyone is in urban music, and I want to sing bolero. I see that everyone is in the bolero and I want to make urban music. Until one strips the ego and focuses more on the purpose. If urban music is now used, I will take advantage of the fact that I was born at this time and that I have an understanding of gender. I will attack and take out my lyrics in this context. 
¿Cómo has vivido el proceso de ser, desde hace varios años, una de las pocas artistas cubanas contemporáneas que ha estado firmada con una major? 
For me at first, it was important, but once you know him it's blah blah blá. How do record companies work? A label today does not make an artist, a label today looks at an artist who is made, or who has a work that she knows will walk alone. Because the world of the music industry changed. If you have a work that is good in general, with which everyone connects, obviously all these collateral partners will come to want to get hooked there. It can be Universal or a smaller record company. 
When I traveled to the United States for the first time and had contract proposals from Universal and Sony, and decided to sign with Universal, for me it was the glory. However, now I realize that they did not have to do for me something that I had not already done, that they did not have to offer me something that I did not have in my hands. 
Today that you can be independent and upload your music, being with a label is almost a shame, from my point of view. What happens is that the public, above all, who does not know how the music industry works, is impressed when there is a balloon that says Universal Music on the disc of an artist and that gives added value to the artist, like a Name of importance But the artist who already knows about the legal terms of his work, can see it as a loss. 
Considero que puedo hacer sociedad con otras casas discográficas en el futuro, conociendo los términos de mi trabajo, pero que no es muy importante, porque a la larga ya sé que es una cuestión de inspiración. Me preocupa más la inspiración, por ejemplo, porque cuando uno está inspirado es cuando saca esas obras que son un quilo, que se difunden solas. Yo creo que hoy día la preocupación de un artista, sobre todo un compositor, debe estar en atender sus redes sociales, en conocer el mundo de la música, sobre los royalties y el derecho de autor, y dejar que la música hable por sí sola. 
¿Crees que has podido escapar de la sombra de ese hit que es Yo aprendí? A los artistas a veces les sucede eso, que tiene una obra que la gente asume y es como LA obra que identifica y reconoce.
No se puede escapar. Pero he enfocado la cosa de esta manera: siempre es molesto cuando quieres cambiar el repertorio y decirle a la gente "yo tengo otras canciones". Lo que pasa es que Yo aprendí es una obra que merece no escapar de ella, porque cuando uno se pone a analizar su texto, por mucho que me canse cantarla, me digo que es bueno cantarla. Pero imagino que si hubiese tenido éxito con una obra con un texto que no perdurara en el tiempo, yo cambiaría mi manera de pensar o tendría otra postura. Qué malo para un artista eso, ¿no?
Hoy en la mañana estaba escuchando Comunicación, que es un tema bastante pesimista. ¿Eres pesimista? 
The inspiration of that theme, honestly, came to me when Amy Winehouse died. As a person who likes music, I always say "if I find a record that I could repeat and repeat", listen to something that makes you say "wow". It happens to me with Rosalia, it happens to me with Amy. And, all that media gossip around her, how they bothered her and her problems with drugs, made me identify, and suffer for her.
When she dies I make this song that is for the media, which by making news can lead a person to suicide. Because, if all these situations around the artist had been kept with discretion, maybe things would have been different. She was the one who inspired me to do that topic. The media made many artists commit suicide because of the pressures. 
To some extent I enjoy not knowing me, because it is very comfortable to be able to go with the flip flops that you want, with the hair as you want, to be in my neighborhood.
In 2017 you starred in a controversial event in Viña del Mar, changing the lyrics of the song with which you were presenting yourself in the contest and saying instead of a message that many described as anti-abortionist. In the distance, how do you value what happened in Viña? 
I am not a person to make scandals, nor to use events like that to get attention. I went there and didn't know why, it was my manager who sent the music. I understand that in my life I don't have to compete with anyone. For me, from the outset, it was very rare to compete. And even weirder that they were judging me a letter, deciding if it was good, adequate or not, or better than another, artists that I think are not trying very hard for their lyrics.
De cierta manera, el artista, con su talento y el trabajo con el que tiene habituado a su público, complace a la audiencia, es como una especie de instrumento ahí. Qué pasa, que de repente sientes la necesidad de usar el arte en un momento específico para decir algo que consideras que necesita la sociedad, aunque eso signifique que te hagan bullying y perder el prestigio que has ido construyendo hasta ese momento. Hasta entonces no había habido ningún tipo de escándalo en mi carrera; era imparcial, no molestaba a nadie, tenía un discurso con el que todo el mundo se sentía bien. 
Viña del Mar was that: the decision I made in a moment, spiritually pulled, to say something that should be said somewhere. And I understood perfectly that the consequences were not only to lose a prize of 30 thousand dollars, a seagull that all artists want to have but to lose the admiration of loyal fans, those who are interested in one's life. 
From that moment on, many people on social networks thought that I was crazy, and I know that I am not crazy because my life has an order, I do not go above anyone's principles. I lead a normal life, I know my flaws and virtues. My work shows that I do not seek to harm anyone. People had no reason to say that I was crazy for stopping by Viña del Mar and saying things. Because what did I say? In that same scenario where people were standing saying "let's make love with four, with two with three" ... did I say something wrong?
In the last two years, there have been movements such as Ni una menos and #MeToo, related to a demand for women's rights on many levels. How connected do you feel with all that?
I don't get into that. People have a lot to fix with themselves.
Te lo pregunto, porque al margen de la respuesta que me des, muchas personas que escuchen tu canción Himno, pueden hacer una lectura de reivindicación feminista. 
It says, "for a man who does not understand that he is born of a woman." All are not like that, and in fact, that song talks about the behavior of a man and the position in which women sometimes put themselves, because if you do not respect yourself, this is how you will be treated. I don't think it's a woman more important than a man, or a man than a woman. I believe in the family, in the union of two people who love each other, I believe that men are valuable and women too. 
That song was born from the helplessness it gave me when I mounted an almond taxi cab that was palying a song that said "I put this tube into you, to the inside", such a thing, totally disrespectful. And the other women who were in that car — because we were all women — were singing it with tremendous joy. Then later when they mistreat you when they hit you, you want to complain. But at all that is in favor of a feminist movement, in fact, they constantly call me to be part of movements that defend women's rights and I don't get into that because I believe that rights are defended individually. With your self-education, self-worth, with respect, you show others, because you reap what you sow and if you are teaching that to your children, then obviously your children will grow like this. As I always say, if you want to know the future of a society and a country, analyze what their generations are listening to. 
I have nothing against urban gender, I have worked with them, with Karol G, with Bad Bunny, with Ricky Martin, we have done super sessions; They are exceptional people and then it catches your attention how they can be excellent people and at the same time using these things that are so bad for society. This tells you that you can work with them, work in co-authorship with them even, but that does not mean that you agree with what they are doing or consider it to be good for society. Neither are you going to stop people from hearing it? If you can do something good then do it, because you don't have dominion over others. 
For that reason, I made this kind of song that I don't style to do. There I took out all of El Cerro, in that song with those who "put in one, in two, in three." 
You mentioned your experience before collaborating with people like Ricky Martin and Mala Rodríguez. How has it been to work as a composer with artists of great projection in the commercial scene?
This came at a very particular time. They are people that I have learned to love, to appreciate, from mutual respect. All these relationships with great music artists have come to my life when I don't feel any kind of idolatry towards them, nor do I feel them as a bridge (obviously you always get something, because that's the way music is); I allow myself to see them first as people. If I don't connect with them like people, no matter how much I benefit, I won't be able to work.  
There is no difference in status, I don't see people because they are too big or too small, but I see opportunities where I can put a good say in the mouth of someone who has a lot of visibility. I see it as an opportunity to contribute to the world. 
As a composer, what are the things that inspire you, whether in terms of cultural products or experiences?
I am a filter. It has to hurt something, I have to feel it, even if it is an outside experience, I have to be affected. And when I have a conclusion, that becomes a song. 
It is very difficult for me not to feel deeply about what I wrote. It is very hard the whole process that the creation of a work brings, it is a life process, it is not simply sitting down to write a song, although, composing for other people is different because you abstract, you try to feel a little what they feel It is done less from the personal and more resorting to talent to certain formulas. 
Por ejemplo, estoy haciendo un programa de investigación musical donde analizo la música cubana por épocas, y trato de componer como si fuese un compositor que vivió en un momento específico. Me pongo a analizar la personalidad de gente como Olga Guillot y Benny Moré, luego escribo todas las palabras que repiten en sus canciones, con qué se identificaban, qué tipo de palabras no pondrían en su boca, cuales sí. Me siento como un autor dentro de ese canon y me digo "si yo fuera a componer una canción para el Benny, esta sería la composición y esta sería la música". Así he sacado rumba y boleros como Sutil intención, que ya está publicado en Internet y fue grabado con una jazz band. Cualquier persona que lo escuche va a pensar "y dónde estaba esa canción que nadie la cantó", porque no va a detectar que es una canción de estos tiempos. 
That is another way of composing; It is a very ambitious work where I show a facet that allows me to understand much more what I did not understand at the beginning: the work of excellent artists who do things with which I do not feel identified as a singer, but with the value they have. It is an exercise that I do as a composer, it does not mean that I incorporate it into my staging. I interpreted this bolero, but the other genres that are being made in the investigation do not have to be sung by me, because in the end, it is not an album for me, but a research record production. 
Recientemente me topé con unas canciones (Carcajada brutal, La razón del equilibrio) que forman parte de un EP que no conocía. ¿Es algo que nació en el 2019, o viene de antes?
Está hecho entre 2009 y 2010. Nunca saqué estas canciones porque si sacaba otro disco de rap después de Polvo de la humedad, iba a quedar para el mercado como la rapera cubana y eso me iba a encasillar. Y si fuera así, está bien, pero eso me iba a apartar mucho de otros escenarios, de la world music, de festivales de jazz, de otras facetas que podía tener dentro de mi trabajo.  
Por eso con Universal lancé un disco como Manual words, donde saco otros colores, un poco más de world music, jazz, reggae, hip hop, canción, balada, abriendo la puerta un poco. Y luego de un tiempo sin sacar nada me dije "bueno, voy a sacar estas canciones". 
It struck me that one of the themes was selected as part of the soundtrack of FIFA 20. I was reading comments on the YouTube channel of people who begin to know your work in the wake of video games. 
Te refieres a La razón del equilibrio, pero de ese disco también fue incluido otro tema, Viaje en dos, en el videojuego Need For Speed. 
FIFA is universal, it shows that new users, who speak Russian, Arabic, are coming to my page. And it gives me excitement when a Cuban has the game and tells me "Danay in FIFA". I am not yet awake to the real impact it has, because I have not seen the game, I have not played it.  
Where are you, musically speaking, from what were the first recordings in Havana Cultura until today?
I am not a formula, and since I am not a formula, I cannot predict where I am going. I have to feel what I do, now I am with my career in a business stage, I am not inspired by these moments. 
Sometimes it is preferable to make a silence ...
I am in a resounding silence. I want to review all my work from the business point of view, take the next firm steps. Right now I have a record with a loud sound of jazz and soul ready, I just have to think about when I want to release it, whether with a label or independent. I am enjoying being independent, just last year I concluded with Universal.
And yes, it hurts as an artist not to be inspired. I think I am not because I need to move to another level of myself. And since I have not passed that level, or perhaps if I have passed it yet, I do not know how to express it, I am under the effects of God and nature. But I am calm, I have some good songs in my repertoire, works with which I will always be able to work and defend, waiting for that moment of birth to be able to move on. 
Maybe I start working with a production company in Cuba, to be promoting my artistic name here. For me the things I have done are old, but it goes and people seem new, as happened with FIFA, which is now that people are knowing those issues. 
You are announced to close the HWM, correct me but it is probably the most massive experience you will have so far with the Cuban public. 
As a solo artist, because I was in Paz sin Fronteras with X Alfonso, although it was a fleeting appearance. 
Well, the first time as Danay Suárez, in all its splendor. How are you thinking that, do you have any expectations, do you think you're going to connect or not? You say that you are not so well known, but you are not exactly unknown to, at least, a group of followers who know your music. In addition to the festival has beautiful magic.
I will do a concert with a loud sound. I am preparing it now, I will talk about specific things, I will take advantage of that time so that people feel that it was worth having gone. I am going to deliver to the public and obviously, I will not overlook that Eme's invitation is super special, for many reasons. In Cuba people never have the opportunity to see me, and I want to make it clear what my job is.