Interviews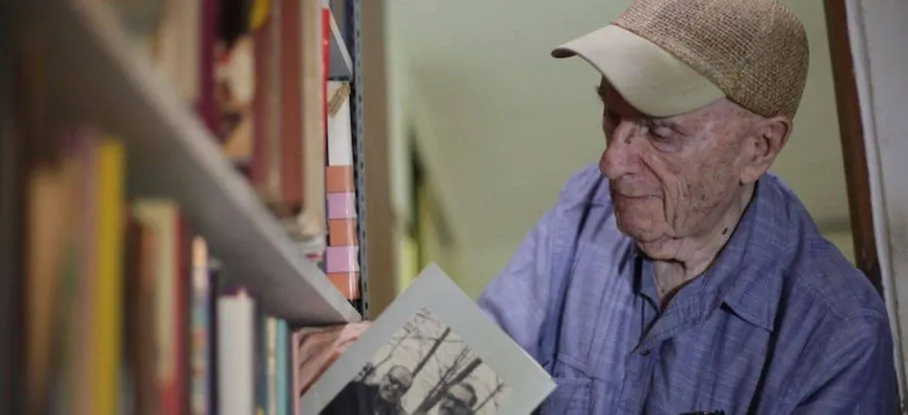 Cristóbal Díaz Ayala: "Music looks for you"
08.07.2020
34 minutes Reading
I didn't leave alone in 1960. I took Cuba inside, I continued to live it, specifically, in music and with music. This is how I continue to live Cuba and the process of Cuban culture. On nights when I couldn't sleep, I didn't count little sheep: I went to the whereabouts of La Víbora and started down the Calzada de Diez de Octubre. There were times when I fell asleep before reaching the Corner of Tejas, but other times I continued to San Lázaro and went up the steps of the University.
Have you seen some tiles that say "Cristóbal Díaz" on the streets of Havana? Ah, well: that was my godfather, my uncle on my father's side. They came from a Creole family from Melena del Sur, peasants who lost everything they had during the War of Independence and therefore emigrated to Havana. Shortly after, my grandfather died and my grandmother found herself alone with ten children. He, who was one of the oldest, managed to study and graduated in engineering and architecture. As soon as he was able to start his own company, he was a brilliant, enterprising man. Every time he built a house—well-known buildings, even—he had those four slabs that together form his name fixed on a wall. You can find them in La Víbora, many in La Sierra, El Vedado and Centro Habana, too.[1] My father worked in my uncle's company as a construction manager. He was a salaryman, just like my mother, lower middle class.
I was born in El Cerro on June 20, 1930, but we did not live there. As the economic situation began to get very tight, we wandered around various places in El Vedado until in 1933 we moved to a place that had the pompous name of Hotel Vista Alegre. It was actually a guest house with shared bathrooms but it had wonderful things: all the apartments faced Belascoaín, in front of us was Parque Maceo, and on the ground floor was the famous Café Vista Alegre.
The building ran from Malecón to San Lázaro. In the direction of the sea, to the left, was the restaurant, which was huge and had a staircase in the middle that gave access to the apartments. It had a very long bar with its typical Cuban window and its shoeshine chair at the end: there was Armando, the most famous shoeshine boy in Havana. The cafe was a halfway point on the road from El Vedado to Havana. When the bourgeoisie went to work in the morning they might or might not stop for breakfast there, what was certain was that in the afternoon everyone came to have a drink in the open air. The Vista Alegre had tables on the sidewalk before the famous "open airs" of the Capitol. The Trio Matamoros, the Luna quartet, Sindo Garay with his son... My parents, who really liked music, used to listen to them every afternoon from our little balcony. Thus began my musical training.
The guest house's central hallway—which took up the entire upper floor—ended in a large cantilevered balcony that looked directly out onto the boardwalk. There my father slept me, because my mother did not tune well. He was an unsuccessful tenor, he had even taken classes once, and he was the one who sang to me. Nothing of "my child was terrified", but Dove, the first music I remember; also I am a poor little deer, a Mexican song, and another, the song of oblivion, and the Spanish zarzuela the soldier from naples. All that ended with the cannon shot at nine o'clock. I waited for the flash, which from there could be seen perfectly.
As if that were not enough, every week they gave retreats in Maceo Park, which had a large, very pretty gazebo. One Sunday it was the Municipal Band directed by Gonzalo Roig; the other, the Police Band led by Captain [Alberto] Romaguera and the next, the [army] General Staff led by [Lieutenant Luis] Casas Romero. Only deaf would not have impressed me with music.
In the last year that we lived in the Vista Alegre, Mayor Beruff Mendieta again authorized the comparsas, which had not come out since 1913. The government had already prohibited them before, at the beginning of the century, when they tried to whitewash Cuba at any cost, It was the time to start bringing thousands and thousands of Spaniards after the war ended. In that carnival, in the celebrations of February 1937, the comparsas met on the hill of the Hotel Nacional and came down the entire Malecón until they reached Maceo Park. They didn't have costumes or anything that came later, they paraded in ordinary clothes.
To avoid disagreements and fights, some of the comparseros held a rope around them that delimited the perimeter of each group. That rope separated one comparsa from the next and the musicians stayed inside. There were also a few policemen watching around, of course, because there were many rivalries between the comparsas. It was said that they could be stabbed in in the blink of an eye, which is why they had also been banned. Beruff Mendieta had authorized them again with a clear tourist purpose and had filled Havana with huge banners that they put on electricity poles, very striking. Imagine: a seven-year-old Cuban living through all that! It had a barbaric effect on me, it impressed me tremendously. Perhaps Eusebio Leal has one of those huge posters in the museum, it would be very interesting. End of the first episode: months later we moved to a house in La Víbora, but the music continued to haunt the boy.
In Cuba you don't have to look for music, music looks for you. I listened to the radio from house to house when I went to or came from my elementary school, the Escuela Pía de La Víbora. At lunchtime, the CMQ presented foreign artists who were all the rage, mostly Mexican. Orchestras, pianists, singers, of course, all the time live. Music followed me from home to school and from school to home every day. That's how I was raised. I think people turned up the volume very high so that everyone knew they had a radio, because that "gave status".
As soon as I entered high school "I took the wrong path" because I became fascinated with North American music, I wanted to be a pepillito, too. I used to collect postcards, but at 14 I started collecting records, mostly from the big bands: Benny Goodman, Glenn Miller, Artie Shaw. That passion has not taken away from me, by the way. The thing hit me so hard that at 16 I had an American music program on Radio Quiza-Seigle, which was on O'Reilly Street, almost reaching the Plaza de Albear. It was a small station that with luck could be heard in La Víbora, if it didn't rain. Mr. Quiza was Mexican and the other owner was Cuban, the photographer Charlie Seigle, who worked a lot in Bohemia.
My program was from eight to nine and the previous one was Arabic music. I think that's where my problem or my luck of being a musical promiscuous began, because I was also attracted to music that, in any case, was heard by the many Arab countrymen who lived in Old Havana. My program lasted two or three years. In the meantime I became the boyfriend of this lady [Marisa, later her wife], who led me towards classical music, and also my uncle Cristóbal, who liked me a lot. They both led me down that other path. I started going to concerts, because I became fond of —rather, I became passionate— about classical music. Of course, my girlfriend went to the concerts on Monday, the gala ones, and I went to the popular ones on Sunday morning. When we started going to dances, I went back to Cuban music. Fully.
See if music is related to all the issues in my life that —in addition to making my girlfriend fall in love with a Bing Crosby song that I dedicated to her on the radio—, as soon as I became a lawyer I opened a record store in the establishment of a friend who sold electrical appliances. He rented me a space and there we opened the business that Marisa ran, who was already my wife. That, in the first year I practiced law. I went in the evenings or on Saturdays because, of course, I couldn't take care of the store full time.
The albums were provided by the record companies. At that time, RCA Victor, Philco, which brought Columbia records, Decca, which brought another supplier, and local firms such as [Jesús] Gorís, the Puchito label, and also the Kubaney label, which we also sold, were here. When the Revolution triumphed, we decided to leave the country, and a season began in which I was very busy trying to make my way. There the music did have to wait for me a bit.
We arrived in Miami in a horrible situation, financially speaking. The impact received by the Cubans who arrived was very violent because at that time they did not have any type of help and there was no work to be found. I tried college first, but of course there was no room for me. My wife was able to get a job as a secretary for a man who sold hearing aids, but I didn't care. One day I desperately went to the dock to see if they would take me as a stevedore and they didn't either.
You went to employment agencies and they sold you a card that cost five dollars on which you had to put everything you knew how to do: plumber, stenographer, bricklayer, whatever. I pressed the letter and put at the end "doctor in Civil Law, in Social Sciences and Public Law; degree in Administrative Law, in Diplomatic and Consular Law". So the guy would take the card and scratch his head and say, "Very impressive, very impressive. But you don't know how to do something useful? I felt like a Kafka character. We already had two boys and work, nothing.
If the law degree wasn't going to feed me, I wasn't going to die. That's why I accepted when they offered me a small store for 4 thousand dollars, which was not much money, of which I only had half. I convinced the man to accept that half in Cuban pesos, since he had a brother who wanted to return to Cuba and I had miraculously been able to get some money out of it. We were in the year 60, they had not changed the currency yet. Thus began my experience as a winemaker. It was a very hard job, I had to get up at four in the morning to go to the places where they supplied the small warehouses in a station wagon old woman whose radiator got hot and it was necessary to stop every so often to pour water on it. an odyssey Then open the business and start the day. Marisa took care of the box.
I partnered with a butcher who was the star—let's say the magnet—of the store because he knew how to cut meat very well and many would buy from us. Even so, we were subjected to the scrutiny of the Cuban community in Hialeah, made up mostly of political refugees who had fled from Batista and many economic refugees. They saw us very suspiciously and asked me at every step: "Hey, and what were you there, henchman, police captain?" I explained to them that no, that I was simply a lawyer. They were very amused that a lawyer was selling taro and plantain, but I didn't care. There were professionals working in hotels, parking lots... Miami, as a work center, is beginning to be done by Cubans within the community, the Americans had nowhere to put in their puzzle those pieces that were called cubans.
After some time as a winemaker, I was lucky enough to meet some friends who had been my firm colleagues. They told me that they were working with a Spanish group in an urbanization that was going to be built in Puerto Rico and they invited me to participate in the company. I saw the heavens open. I hadn't told you that as a boy I aspired to be an engineer like my uncle Cristóbal, but since I had serious difficulties with mathematics I was forced to give it up. For me, as a child, the tastiest thing about the Saturday walk was that my father would take me to the construction sites that he had to supervise as a construction foreman, but I did not understand numbers, so I decided on Law and the Social Sciences.
Having been my uncle's lawyer, he was quite familiar with the mechanics of construction. In the new job he had to be the sales manager, the one who hired the workers, the technicians. I developed a series of abilities that I didn't even know I had. It must be said that the Puerto Ricans welcomed the Cubans with extraordinary hospitality in the '60s, they put us to work, they found use for us, they realized that a man who was a lawyer who knew how to sell was a man who could be used in sales , and the Cuban lawyers in Puerto Rico sold everything you can imagine.
I've been in the real estate business for a lot of years. I raised my head, educated my children and already in the 70's I found out that a second edition of The Encyclopedia of Cuba.[2] In the first edition the part of the music had been entrusted to the Cuban musician Natalio Galán who lived in New Orleans. By that time, poor Natalio was very depressed and had written a very good but rather short paper that was not in keeping with the rest of the encyclopedia. I, with enormous daring, told those responsible: "Well, what if I do the music part?", and they replied: "Ah yes, why not".
Already at that time I had realized everything I was missing from Cuba. And what I missed most was that: knowing more about my music. I listened to radio programs presented by some Puerto Rican gentlemen who knew much more about Cuban music than I did; people who felt enormous admiration for Cuban popular music, a true devotion, and I felt motivated. For the encyclopedia I began to investigate Cuban music from its origins. When I finished my work I went to the university to review Bohemia, the collection they had there and the few books that could give me some direction. On vacation I went to the University of Miami where there were more complete collections of Bohemia, Posters and many more books. The next step was to go to New York, to the music library when it was still on 42nd Street and later, when it was moved to Lincoln Center. Heaven was arriving at the Library of Congress. So I kept studying for a period of five or six years until, when I was more than halfway through with a lot of advanced material, the man from the encyclopedia told me: "second edition, nothing. I have not sold the first one, so there is no second edition". I said to myself: "well, I'm still working on this, I don't know if it will be published or not, but I'm still working". And I decided to write a book.
First, I interviewed all the artists who were still alive in San Juan: Humberto Suárez, his wife, the singer Elizabeth del Río, Los Guaracheros de Oriente, Servando Díaz, Guillermo Portabales, whom I did not reach in life, but I interviewed his widow. Then I did the same thing in Miami, where there was a larger contingent, and in New York, where there were still a lot of interesting people like Bobby Collazo. At one point in the interview, Bobby told me that he had finished a book on Cuban music. "Well, I'm going to publish it for you," I told him and he looked at me as if to say: "How many times have they told me this story?"
When I finished the first version of my book, although I knew it was an immature, incomplete piece of work, I was desperate to publish it. I wasn't prepared for that work, notice that I don't even know music, I'm a commentator, a music researcher, but I don't know music and it was a very broad musical panorama, very ambitious. There were good books, especially the one by Argeliers León and the one by María Teresa Linares —one was conceptual, the other more about basic education—, but in both they lacked many names and also carried ideological problems and prejudices.[3] People also wanted to know what happened to Fulano, what happened to Mengano... There was an important part to cover about who stayed, who left, adding some anecdotes to give it color and establish a little order in the periods of Cuban music. . My work was basically outreach, I didn't aspire to more, but I tried to at least "conceptualize" it a bit. And the book "hit", it filled an information gap, I think, inside and outside, on both sides.
I paid for the publication of From the areyto to the new trova because at that time I had no experience with publishers and I was also crazy to see it on paper. Fortunately I had the means to be able to do it and I did it: I edited it myself. It was printed in Puerto Rico and my wife and I distributed it. As soon as I could, I took it to New York and told Bobby: "now I'm going to publish yours". Since he didn't know what to call it, I suggested The last night that I spent with you, which in addition to his most famous song, is an image that seems very true to me, because Bobby Collazo dreamed of Cuba every night of his life.[4]
At the same time that I published From the areyto… I started doing the program Cubanacan, which also arose from that desire that I have all the time to deal with Cuban music. It occurred to me to go to the government station and ask them to give me half an hour to broadcast Cuban music and they said yes. The program was very liked. First the émigré community followed, but immediately all the people who listened to other spaces where our music was also played joined, which were quite a few. I presented it and prepared the songs, I didn't intervene in the technical part, like playing the records or opening the microphones, not that, but I interviewed I don't know how many artists. At the Puerto Rico government station I only had 29 minutes, then I went to the University radio station and they gave me a full hour. When independentistas traveling to Cuba arrived, they brought me records and cassettes because I played the same for the artists who were inside as for those who were outside. What he did avoid was politics. That program was on the air for about ten years and received several times the radio awards that were given there.
As soon as I reached financial solvency I began to collect Cuban music records and I ended up having a respectable amount. At the time I donated my collection, years later, there were about 17,000 78-rev plates, about 35,000 long-playing ones, and more than 10,000 very interesting cassettes because they contained things that I had not been able to obtain on records through exchanges with other collectors, many interviews and radio programs of these figures that, I already told you, there were in Puerto Rico with so much knowledge of Cuban music. He also had some 5,000 compact discs, "some" 45 discs —about 3,000 or 4,000—, photos, books and sheet music. In total, more than 100 thousand units.
When I made the donation, I warned that I would dispose of the project in the same way that sugar mills were available in the colony, when it was said: "a sugar mill with so many cavalries, with so many horses, and the supply of slaves is also for sale." In this case, I was the crew. Unfortunately, I was not able to deliver the collection to the University of Puerto Rico, as I wanted, nor to the Conservatory of Music, which was very interested but did not have a location. I started looking in the United States and the best proposal came from Florida International University because, although I didn't charge them a penny, they set up a fund for the database. They have continued to attend to the collection that is on shelves with public access and, in addition, every year they grant travel bags so that people who do not live in that state can visit and consult it.
I had a fixed idea since I started writing: to make a discography of Cuban music as complete as possible. I had many doubts, I found conflicting opinions, assumptions without proof, I asked myself questions and questions that I could not answer because the information was very scattered. Through a friend who had been an employee of Victor in Cuba for a long time, I contacted the New York offices and they told me that there was already a person working on it, Mr. Dick Spottswood. I contacted him and explained my intentions. Dick answered me immediately, kindly: "I am not doing my book only with the Victor recordings, but in general, if you are interested in helping me revise the work, I would be delighted."
For a couple of years I didn't hear from Dick until suddenly I received a huge tome in the mail that was the proof of the volume dedicated to records recorded in Spanish in the United States. I talked to a Puerto Rican collector to help me with the Puerto Rican part and I completed the Cuban and other countries part with what I knew; I corrected errors in the surnames, in the names, I collaborated with everything I knew at that time, until the eight-volume Spottswood encyclopedia was published.[5]
The truth is that he had been struck by all the recorded material of Cuban music since the invention of the phonograph, and even before. Although during those years I published other books, among them a history of the Cuban bolero[6] and many articles, I saw more and more clearly that my main goal was to make the Discography. On vacation, I traveled to New York to visit the Victor archives, which already belonged to EMI and occupied several floors of a huge building on 42nd Street. I had a hard time copying and making cards, since there were few copying machines and they had to use them all researchers. It was going to take me ages to make copies. I was so lucky that the company's office in Puerto Rico appointed a Colombian boy interested in doing research on old Puerto Rican and Cuban music to whom I proposed, to advance in the work, that he give me a letter in his name to have access free the copiers and, in exchange, I would give him a copy of everything I researched. Good idea, that was great.
I started copying, copying, copying, and within two years I had about 60,000 cards listed. Note that each 78-revolution Victor record has a card with information on each recorded side, like a file. Every letter, every number you find there is gold. Then I did the same with the Columbia files, which were more incomplete, and with those of other small firms. It was better for me with the Cuban brands because in Miami I had interviewed almost all the owners —people from Kubaney, Montilla, Panart, Gema…— and many collectors. It is true that it is a tedious process, almost an archeological task, you have to keep searching and searching and searching even though you know that you will never have it or know everything.
At the same time, I located hundreds of old Cuban music records in the United States and other countries; I bought them, listened to them, and commented on them too. I didn't want the Discography was a simple and cold list of recordings, but I tried to conceptualize the thing a little, especially in the first volume, which covers the acoustic stage. I distributed the recordings by genre, by period, from the time of the cylinders and I gave them a rating for historical, artistic, documentary interest. I organized in a group everything that was danzón, everything that was guajira music, I separated what was the Alhambra Theater, what was the lyrical theater and I wrote a little about those institutions, small biographies of the artists, of the composers... that was about giving a little content to the thing. Later, when in the general discography, from 1925 to 1960, I did not make as many comments as in that first volume, which collected what was most forgotten and remained the most obscure.
I can tell you that the period that interests me the most because of what it means for Cuban music is the one that begins with the origins of phonography until 1925: acoustic recordings. The more I hear them, the more important they become to me. They are always revealing, any of them. For example, the thesis that [José] Urfé creates with The Barreto Bowler the first danzón that in its last part already has elements of the son, however, the records teach you a truth: long before, the son had been playing in that last part of old danzones. I can give many examples in which the records belie the written "studies".
Look, for example, and returning to the danzón: that last part in which the cornet is leading the singing voice, a clarinet and a trombone making harmonic-rhythmic combinations, counterpoints, makes you think and rethink, because "it just so happens" that It's the same thing that happens in the orchestra of the dixieland American. The musicians of those orchestras that emerged in the last century in New Orleans listened, no doubt, to those danzone records. In the regiments of blacks that went to Cuba when the US intervened, there were Hispanic musicians, including Cubans who lived in New Orleans. So where did he get that? dixieland what is the basis of jazz? Sure, the rhythm is different, the syncopations are different, but the combination of the three instruments is the same.
In addition, there is the intertextuality in danzón, a genre that brings classical music, operatic music, even North American popular music, that's fabulous. The other thing is guajira music, a song with political content against the republican government of the first stage and after the intervention, things that the Americans recorded without having the slightest idea of what they were singing but they recorded it to sell it, because when arrived in Cuba with the Victor or Columbia label, the government did not dare to object even a comma, and the album circulated. To mention just one: there is a number called the destemmers,[7] which is openly a song of social denunciation, and if you go to the Alhambra theater, don't even mention it. There are treasures in the old Cuban punto records that were never released again once the acoustic era ended, from passages from the war to current events in those days. The famous Indian Naborí used to say that the entire history of the nation is in the Cuban point, because the Cuban point was the newspaper of the illiterate, that is, for many years the Cuban peasant learned history not from books, but by listening to tenths.
After I published in 1994 the first volume of the Discography of Cuban Music[8] and the book about the proclamation,[9] The year in which the centennial of the US occupation of Puerto Rico and Cuba was commemorated was approaching and that is why I am writing When I left Havana, [10] to which I added a compact disc, that covers from 1898 to 1997 everything that happened to Cuban music around the world, how it spread everywhere for a century. At that moment my Puerto Rican brothers told me: "well, what about our music?", and I thought it was a good occasion to reciprocate in some way that enormous admiration for Cuban music that I found in Borinquen, and I began to prepare The march of the jíbaros.[11]
For the only time, since I have published all my books at my own expense, the Institute of Culture gave me a financial aid of 20 thousand dollars for the publication of this volume that tries to capture one hundred years of Puerto Rican music through its recordings around the world. I chose as title The march of the jíbaros because with that name the American pianist Gottschalk composed a dance in Puerto Rico, inspired by a jíbara melody. It is a "song" piece, like The troupe de Lecuona: you feel that it's coming, it's getting louder and then it's going away... it's a very nice number, very graphic. I thought I found a good metaphor, because I called jíbaros not only to those who play that type of music, but to all the Puerto Ricans who left their land without the protection of a nation that defended them, that represented them, and went around the world with their talent, starting with a man who His name was Antonio Paoli, who in 1904 recorded the first complete opera in Naples, something that neither Caruso did. Paoli was called the king of tenors and the tenor of kings, although for me he was a jíbaro just like any other, in the sense that he came out to represent his country for the planet "to the chest". The book was very successful, several editions have been made and today it is considered study material in music careers.
Until I retired as a lawyer, I did all the music work at night, when I finished work, at dawn, on weekends, sacrificing family vacations, always with the help of Marisa, who is a doctor of Philosophy and Letters. She was a teacher in Puerto Rico for many years and, of course, her specialty is language. My wife corrects some of the nonsense I make, though I don't always let her proofread it, so any typing errors are entirely my own. While I work I listen to music, but I can't do it with Latin music, in Spanish, because "I'm leaving", my ear takes me, that's why I play classical or jazz in the background. I can tell you that, although I am faithful to the things that I have liked all my life —which are many and varied—, my taste in music goes through stages, I discover things, I am often falling in love with new things.
For a long time I kept collecting records and working on the continuation of the Discography from the advent of electrical recordings to 1960, but there came a point, in 2001, when I said to myself: you have to stop because you will never finish. I figured out that if I had covered the first stage from 1898 to 1925 in a book that had some 4 thousand or so selections, that is, of analyzed recordings, in the second volume at least 80 thousand numbers should appear. That would mean that this second part would have 4,000 pages: it would be a ten-volume encyclopedia that had to be sold for $500, and at that price nobody was going to buy it.
Then it occurred to me to present it to the University of Florida and the director, Modesto Maidique, very concerned about Cuban culture, immediately agreed to put it on the Internet. I said: well, I donate it on the condition that they have it on the screen, on the portal, and also that it be revised within a certain time to keep it up to date. Do you know what's up? Books are no longer the best medium for a discography, nor for reference material. The best medium is the screen, where you can add new content, because the investigation does not stop flowing, and correct the errors that you notice or that you notice. The FIU accepted my proposal, and earmarked additional funds to do that work. It has been on the screen for years and can be consulted for free, from 1898 to 1960, with many references to recordings of recent date.
Since it is on the website the Discography It has been widening unbelievably. Whenever I can, I update it with the data, the date, the little detail that I find. Now, in the entries and in the biographies it is inevitable that I include my opinions: for me, to give you an example, before the chachachá orchestras there is the Aragón and then all the others. Something similar happens to me with Esther Borja as a performer, which I love, and also with María Teresa Vera and Lorenzo Hierrezuelo in trova. I always tell people to listen with their ear, not mine, so don't follow me to the letter.
Among the things that fascinate me are the enigmas that arise in the investigation, for example, the mystery of [Alfredo] Boloña that suddenly vanished, and one fine day I find in the novel Écue-Yamba-Ó! de Carpentier that the Sexteto Boloña was imprisoned for a huge fight that took place in a vacant lot: that may explain the disappearance of that son group, which was excellent. It would be necessary to investigate now in the old press, because it is a novel, a film, a story that never ends and that always begins with a record. That one from Boloña, with many other mysteries, becomes clearer or more complicated as you investigate and listen to Cuban music throughout your life. Doesn't that sound exciting to you?
I tell you something that I like to repeat to people: suppose that in the Morro de La Habana they discover an indigenous piece, a carved stone. Archaeologists may differ on date, style, argue about the human and the divine. Now, if what they find is an old record, no one has to give an opinion, because the record alone is going to start talking.
---
[1] Cristóbal Díaz González (1894-ca. 1960) was one of the distinguished Cuban architectural engineers of the 20th century. Among his works is the old Military Civic Institute of Ceiba del Agua, built between 1936 and 1938, declared a National Monument in 2008 and the newspaper building The country, on the Calzada de Reina, today in a sorry state.
[2] The Encyclopedia of Cuba. Arts. Society. Philosophy. Universal Editions, 1973.
[3] CDA refers to Of song and time, from Argeliers Leon and music and people, by María Teresa Linares, both published in Havana in 1974 by the publishers Letras Cubanas and Pueblo y Educación, respectively.
[4] Cuban music: From areyto to Nueva Trova, first edition, Editorial Cubanacán, 1981. In its fourth edition, enlarged and "updated", the book appeared with the title Cuban music: from areyto to Cuban rap, Musicalia Foundation, 2003.
[5] Richard Spottswood: Ethnic Music on Records. A Discography of Ethnic Recordings Produced in the United States, 1893-1942, University of Illinois Press, 1990.
[6] History of bolero in Cuba, Editorial Cubanacan, 1994.
[7]     The destemmers. Cuban point. Juan Pagés on Victor disc (Vi-72646) recorded on February 9, 1918.
[8]     Cuba sings and dances. Discography of Cuban music 1898-1925, Musicalia Foundation, 1994.
[9]     If you love yourself by the peak, have fun. History of the Latin American musical proclamation, Universal Editions, 1988
[10]    When I left Havana. One hundred years of Cuban music around the world, Musicalia Foundation, 1998.
[11]    The march of the jíbaros 1898-1997. One hundred years of Puerto Rican music around the world, Editorial Plaza Mayor, 1998.