Articles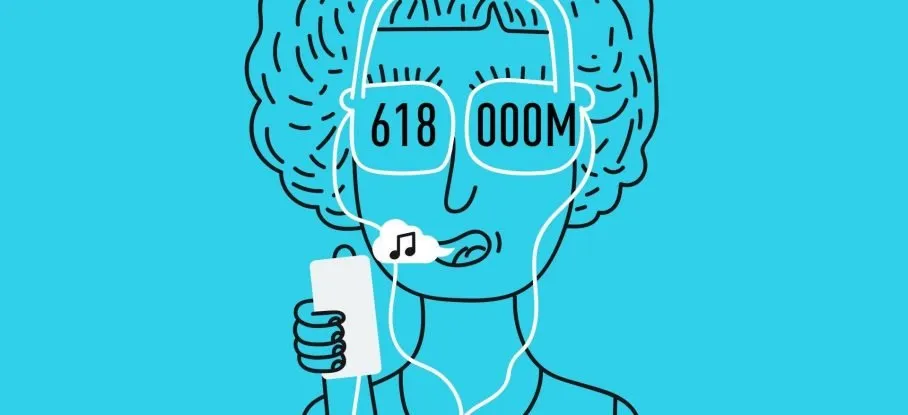 Consumption and the music market in 2017 (in numbers)
27.07.2018
5 min. de lectura
In 2017, more than 618 billion songs were played through streaming.
Worldwide revenues for digital music (downloads and streaming) accounted for more than half of total revenues (54%).
The global income for streaming became the main source of income for the music industry, with a growth of 41.1%, while the income from downloads and physical sales decreased (-20.5% and -5.4%, respectively) .
Vinyl sales increased by 22.3% and currently represents 3.7% of the global music market. Despite the growth for twelve consecutive years, there are symptoms that point to a stabilization of the vinyl revival, particularly in the United States.
For the third consecutive year, the music industry's total revenues grew (+ 8.1%), mainly due to the notable growth of subscription to payment for streaming services, which increased by 45.5%. However, these numbers only represent 68.4% of the 1999 revenues.
By the end of 2017 there were 176 million paying users of audio streaming platforms, of which 64 were new users. However, YouTube continues to be by far the most popular streaming platform, with around 1.3 billion monthly users.
"Despacito" (Luis Fonsi feat. Daddy Yankee) was the song of the year in terms of consumption: the second best-selling single in digital format (the equivalent of 24.3 million tracks sold, only behind Shape of you, by Ed Sheeran), the most listened to in streaming (7.5 billion reproductions at the height of April 2018); more time at the top of the Billboard charts (16 weeks as number 1 in the Hot 100, tying with "One Sweet Day" by Mariah Carey & Boyz II Men's).
Revenues for reproduction rights (on radio, TV and public spaces) grew by 2.3%, and represent 14% of the total income of the music market, but the industry considers that this does not reflect the real value of these rights and owners continue to strive for more favorable agreements.
Revenues for synchronization rights (use of music in films, commercials, TV shows and games) grew by 9.6%, and represent 2% of total revenues.
Latin America continues to be the most dynamic territory in terms of the growth of music consumption. In 2017, revenues in the region increased by 17.7%, supported by the streaming boom (48.9% of revenues), which largely mitigated the drop in physical sales (-41.5%). Between the countries of greater growth they emphasize Peru (21.7%), Brazil (17.9%, the greater market of the region), Chile (14.3%), Colombia (10.5%) and Mexico (7.9%).
China strengthens as one of the most important and thriving music markets, in 2017 it grew by 35.3%, with streaming leading the rise with 26.5%.
Radio continues to be the main source of music discovery, while 76% of YouTube users (the most popular streaming platform) consume only music they already know.
2017 has been the year in which smart speakers (such as the Amazon Echo) have begun to establish themselves as mass consumption products, which has deepened a change in the concept of music as "space" rather than as a product in itself.
In a typical week, the top 10 music consumers in the world, distributed their listening time as follows: radio (40%), music purchased (22%), streaming video (22%), audio in streaming (18%) 76% listen to music on their smartphone.
90% of paid users of streaming music platforms listen to music with their smartphone.
84% of internet users between 16 and 24 years old listen to music through their telephone, being the age sector where it is most popular.
Streaming video represents 55% of the time consumed in streaming music; Only Youtube accounts for 46% of the time of consumption. In contrast, free and paid streaming audio represent 23% and 22% of the time, respectively.
44% of internet users bought physical copies of music or paid for their download.
96% of internet users consume legally licensed music (includes: streaming audio, streaming video, physical sales, digital downloads and radio).
The success in terms of adding subscribers to Spotify, the largest independent streaming subscription service, continued throughout the year, with nearly 70 million premium subscribers, comfortably the number one service globally.
The artists and composers continue their complaints about the value gap, related to the revenues obtained by the streaming platforms and the low income obtained by the creators for the consumption of their music on those platforms. According to IFPI estimates, Spotify pays a record company around 20 dollars per user, while YouTube pays less than one dollar.
Note: As the income related to consumption via streaming is not public, the industry has designed a generic metric to calculate total consumption that understands an album as the sum of ten songs of that album sold in digital format, or the streaming playback of these total of 150 times. Similarly, every 150 reproductions of a song via streaming is counted as a traditional sale of the song.
Sources consulted:
Streaming Music Service Overview & Music Market Update (December 2017), David Sidebottom, Futuresource Consulting.
Connecting with music: Music consumer insight report (September 2017), IFPI.
2017 Year-End Music Report (US), (January 2018), Nielsen Music.
2017 US Year-End Report, (January 2018), BuzzAngle Music.