Backstage
Mayra A. Martínez
22.07.2019
6 minutes Reading
This is not the story of a girl who grew up in a musical environment, who had uncles who played in important orchestras or a pianist mother. Mayra A. Martínez worked as a photographer at the Cuban Book Institute. He made a living making photos for book covers or photos in releases and, of course, he did not miss the opportunity to sneak into the rehearsals of friendly musicians or in any more or less bohemian environment, where there were guitars and rum. He was young and liked art and artists.
To give a small sample of her ability to be in the right place at the right time, the girl we talked about is the author of the photographs of the first LP of Silvio Rodríguez, Días y Flores, and signs most of the few photos that were taken to the Icaic Sound Experimentation Group.
At 25 years old and while still working, Mayra graduated from journalism. Without interest for any of the places available in the general press or the Institute of Radio and Television, he was put between eyebrow and eyebrow to enter the magazine team Revolution and Culture, at that time a hotbed of good ideas that came out of good heads.
There she had to start from the bottom (Photographer B, 163 pesos a month), but she knew in some way that the experience would be worth it. There he met and became friends with Leonardo Acosta, who adopted her intellectually, recommended readings and took her with a very special teacher —Carmen Valdés—, to receive lessons in music theory and theory, flute and history and "gossip "Of Cuban music. He did not advance much in the former, the flute never tuned him, but with the latter he armed himself with a set of invaluable tools for his future. Insistent and hardworking as she is, she who "did not differentiate a son from a waltz" before, eventually ended up in charge of the music section of the magazine, interviewing and having contact with all the relevant Cuban artists of the time.
It's the 80s in Cuba and Adalberto Álvarez had already arrived in Havana. And Mayra begins, again intuitively and boldly, to perform for him a job that then had no specific name (later he was called representative, producer and even manager). Mediated with the Cubartista company (antecedent of ARTEX), helped with the procedures of the artist, got functions or tours, negotiated conditions. He did similar jobs for the Sierra Maestra group and singer Mayra Caridad Valdés. Without knowing it, he was, along with others, such as Miriam Wong (Albita Rodríguez), Diana Balboa (Sara González), Petit (Amaury Pérez), Lázaro Gómez (Pablo Milanés), Marta González (Grupo Ismaelillo), inaugurating unpublished forms of relationship the artists with the state institutions of music. From this stage he tells that he learned a lot about teamwork and the human relationship that occurs in cohesive and quality groups, an experience that would be vital in his later stage in Mexico at the head of various publications.
All this that we told above happened without Mayra stop taking photos, or organizing exhibitions, winning prizes with them and gathering photographers in the corresponding section of the nascent Hermanos Saíz Association ... Meanwhile, I still met people from the show business, who then interviewed for his section on Revolution and Culture. Thus, classical Gemini and - like the anger of the popular verse - infinite in its excesses, accumulated more than 200 interviews in 15 years of work, a selection of which ended up being edited by Cuban Letters in the following decade, under the title of Cubans in music.
Mayra lives in Mexico since 1991. Almost 30 years with the sea in between could have diminished his passion for music and musicians of his land. But a Chinese proverb says "where the water reaches forms its channel". And it is natural that obstinacy that is recognized to Asians and the vital liquid.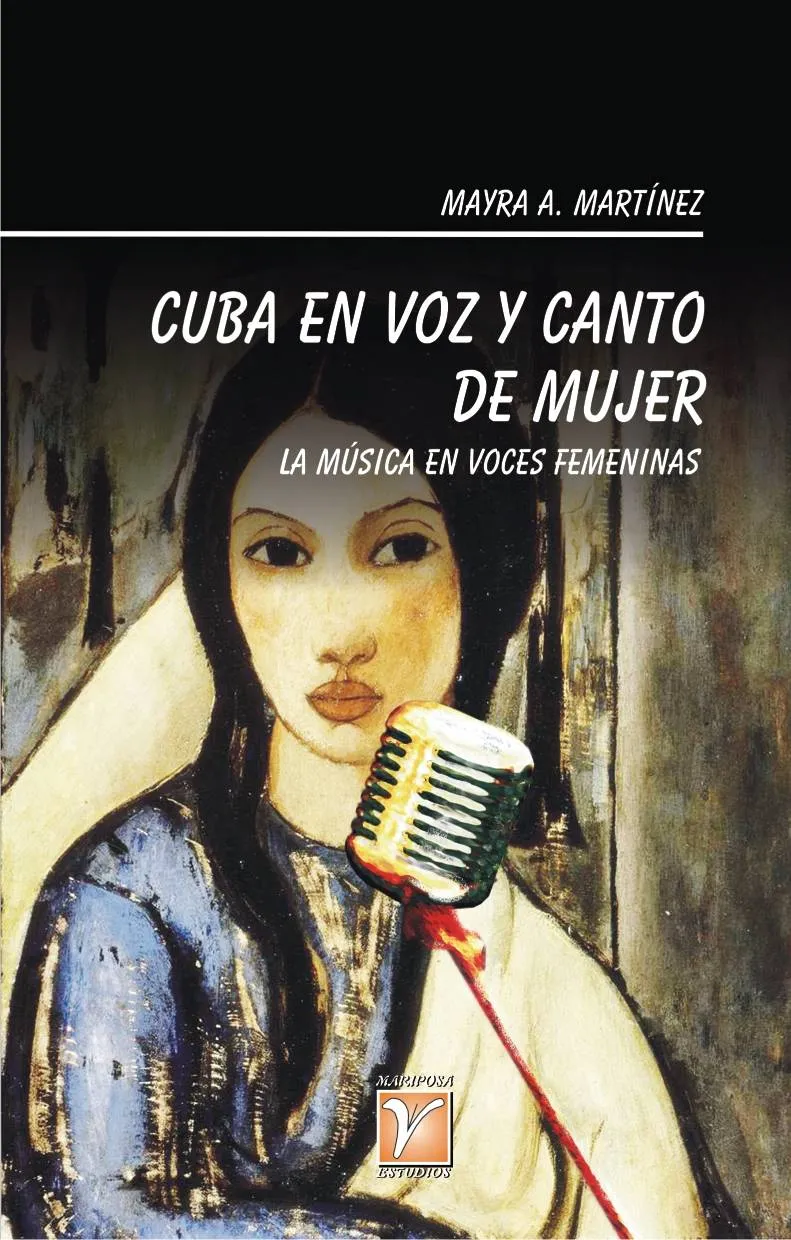 So far this century has published the compilation Sara González, With troubles and patience (Editions Bagua, 2014 / Editions UNION, 2018) and the broader Cuba in voice and song of woman (E-riginal Books / Amazon, 2015 / Editorial Oriente 2019). As it was before Dictionary of Women in Cuban Music by Alicia Valdés Quintero, this is a perfect, but necessary and timely work, which places Cuban singers in the center of sight, pondering their extraordinary legacy to our culture.
The first of the two volumes consists of five chapters: Once upon a time the music in the voices of Women, an overview of the Cuban singers of the 20th century; Beyond a thousand borders where he delves into the four perhaps most internationally known: Celia Cruz, La Lupe, Olga Guillot and Omara Portuondo; Behind the guitar, the voice it crosses the voices of the Cuban ladies of the trova from María Teresa Vera to Sara González; the fourth, Cuban Vedettes, a special race, travels through the stories of Rita Montaner, Rosita Fornés and others who went beyond music to be true artists of popular varieties and divas; and the final chapter, The most current voices He ventures to "cure" a selection of Cuban singers under the age of forty, which the author considers transcendent for various reasons.
The second volume contains biographical interviews with 17 Cuban singers and / or composers who marked times and trends (Ela Calvo, Gina León, Las Diego, Lourdes Torres, Beatriz Márquez, Mirtha Medina, Annia Linares ... as a sample button). And now, aware of the role played by people like herself, who work in the shadows to make music happen and spread, she has almost ready another book with more than 30 interviews about the history and avatars of Cuban music in the twentieth century and XXI, made this time to musicgraphers and promoters from Cuba, the United States, Colombia, Spain and Mexico.
There are people without whom Cuban music would continue to exist, but who have been so relevant in different ways in their future, that their work is part of the country's musical legacy. Mayra A. Martínez is one of them.